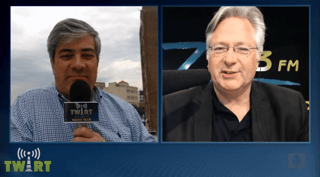 Several somewhat incompatible Audio over IP standards are popular in the marketplace. There's Dante, Livewire, Ravenna, and AES67, among a few others. Which AoIP standard is best for a given audio application? Ketil Morstøl of Soundware Norway compared the most popular AoIP systems, both on paper and by installing each. He joins Chris Tobin and Kirk Harnack on This Week in Radio Tech.
Guest: Ketil Morstøl, Sales manager at Soundware Norway
Hosts: Chris Tobin, IP-Solutionist and Kirk Harnack, The Telos Alliance, Delta Radio, & South Seas Broadcasting
Links from the show:
Ketil Morstøl's comparison of different AoIP standards' features and use cases
Ketil Morstøl's diagram of Precision Time Protocol v.2
Ketil Morstøl's list of AoIP Security considerations
Watch the Video!