TWiRT 357 - Audio Heard by Millions with Matt Aaron
Posted by Kirk Harnack [TWiRT] on Jul 21, 2017 1:00:00 PM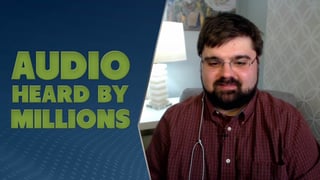 Are drones more than "big boy toys" for broadcast engineers? Well - YES! Sam Wallington is VP of Engineering for Educational Media Foundation. He's using drone video and photography to locate trouble spots and prep for tower repairs, saving return trips.
Hosts:
Chris Tobin, IP-Solutionist

Kirk Harnack, The Telos Alliance, Delta Radio, & South Seas Broadcasting
Guest:
Matt Aaron, Chief Engineer - The Dave Ramsey Show
Show links:
The Dave Ramsey Show (sizzle reel)
Funny tour of the Dave Ramsey Studios
Shields UP! Router Port Test (Click Services | Shields UP!)
NMAP Tutorial for Port Scanning
Why You Should Update Your Router
Watch the Video!
Topics: Broadcast Engineering, Streaming Audio, audio, audio quality
Subscribe

If you love broadcast audio, you'll love Direct Current! Get it delivered to your inbox weekly!