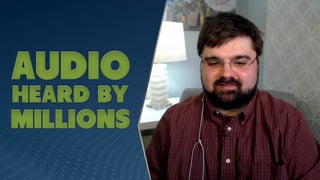 Are drones more than "big boy toys" for broadcast engineers? Well - YES! Sam Wallington is VP of Engineering for Educational Media Foundation. He's using drone video and photography to locate trouble spots and prep for tower repairs, saving return trips.
Hosts:
Chris Tobin, IP-Solutionist

Kirk Harnack, The Telos Alliance, Delta Radio, & South Seas Broadcasting
Guest:
Matt Aaron, Chief Engineer - The Dave Ramsey Show
Show links:
The Dave Ramsey Show (sizzle reel)
Funny tour of the Dave Ramsey Studios
Shields UP! Router Port Test (Click Services | Shields UP!)
NMAP Tutorial for Port Scanning
Why You Should Update Your Router
Watch the Video!
Topics: Broadcast Engineering, Streaming Audio, audio, audio quality
Subscribe to Direct Current
Learn from the experience of your peers, stay up to date on the latest audio broadcast tech, get updates on Telos Alliance products and more! Delivered weekly via email.
Subscribe to Email Updates