Kidd Kraddick's Yea Network brings new Axia studios online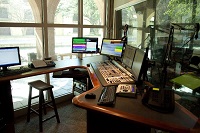 If you've thumbed through the July 3rd issue of Radio World (US), you probably saw the gorgeous new Axia studios built by Rob Chickering, VP of Operations for Kidd Kraddick's Yea Network head-end.
Kidd, if you didn't know, is an Ohio native, which naturally makes him dear to the hearts of us Telosians. He's also kind of a big deal: Kidd Kraddick In The Morning is nationally syndicated in more than 75 markets, and also heard on the American Forces Radio Network.

Recently, the talented Mr. Chickering sent us a basketful of pictures from the recently-commissioned studios, and we have to say - they are gorgeous. We love the abundant natural light, use of warm wood tones, and of course the Element consoles right in the middle of everything, just sittin' pretty as you please.
If you'd like to see more pictures of this beautiful studios, check out our Facebook page.