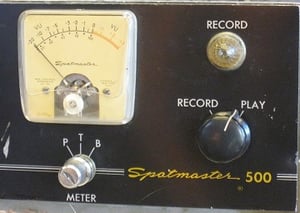 An earlier installment of Found in the Attic looked at the ATC/Collins P-190 cart machine, which was the first commercially available tape cartridge deck, and the hit of the show at NAB '59. Around that time, Ross Beville, Chief Engineer of WWDC in Washington, DC had the same idea, and also began to develop tape cartridge machines. He apparently did not know about the work of ATC's Bailey and Jenkins until NAB '59. In June of 1959, Beville founded Broadcast Electronics in Silver Springs, MD, to manufacture Spotmaster cart machines. The first production runs were built in the station's garage.
These 500 and 505 models, with ongoing updates to the electronics, were BE's bread and butter from 1959 through the mid-1970s, when they were replaced by the 10-70 series, although BE continued to make the multideck versions of the 500, 605 and 610. Manufacturing of cart machines by BE ceased in 1995, This edition of FitA looks at the first machine built by Broadcast Electronics.
The Spotmaster 500 featured a Viking transport with either a Pabst or Hurst motor along with a flywheel-belt drive. The first machines had an 850 Hz cue track, which was changed to 1 Khz early in production. The earliest machines were also built in wooden cases, although this was soon changed to the familiar blue hammertone aluminum chassis pictured in our example. Unlike the ATC, which automatically engaged the pinch roller, the Spotmaster had a load lever to bring the pinch roller in place, and used a smaller solenoid to engage when the machine was started.
A unique feature of the early machines was hybrid electronics. The 1 Khz cue detector and playback amp were solid state, while the 1Khz cue tone generator, bias oscillator, and record amp had vacuum tubes. A combination of 12AX7s, 12AU7s, and 12AV6 was used in the record circuits, while all transistors in the playback electronics were 2N217s. The next generation of Spotmaster 500s featured all solid-state electronics.
Another feature found only on these earliest machines were controls and connectors on the sides. There was a spring-loaded start switch on the right side, along with a red push button for stop. The left side had an XLR connector for microphone inputs, and a 1/4-inch phone jack for line in. These turned out to be a bad idea for two reasons. First, switches and connectors sticking off the sides were easily bent and damaged. Second, it made it difficult to mount mach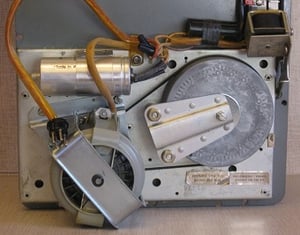 ines side-by side. The next generation BE cart machines had the start and stop buttons on the front panel, and all input/output connectors on the back, which made more sense. Remote control on this and all subsequent machines was via an octal socket on the rear deck.
These machines had a record-play switch, while later machines with more advanced logic would automatically go out of record when stop was pressed, a much safer arrangement. Many a production masterpiece was lost when an absent-minded jock forgot to switch the machine back into play before listening to his or her latest creation.
These early Spotmasters were the workhorses of the industry during the 1960s and '70s, but keeping them in prime condition required regular maintenance. With hard use typical in most stations, parts in the Viking transports simply wore out. Swing arm springs broke, fiber guides for the load lever wore thin, drive belts stretched, flywheel bearings seized up, and of course, pinch rollers and heads had to be replaced with frustrating regularity. Despite warnings in the installation instructions, many cart machines were mounted on top of consoles with vacuum tubes, where the high temperatures quickly dried out electrolytic capacitors and lubricants. Add to all of the above regular head alignment and tuning up record electronics, and taking care of cart machines consumed a significant amount of a chief engineer's time in the 1960s-'70s.
The good news about maintenance was these machines were about as simple as it got. The transport was easily disassembled, and most of the electronics were on removable circuit boards. Those boards could be a source of confusion however. BE used the Spotmaster 500 trade name for almost 20 years, going from the 500, A, B, C and D models. Over that time, electronics were improved, and new models were added with secondary and tertiary cue tones. The adjustment pots on those boards were not always labeled, and the savvy engineer would mark them with a Sharpie. That said, there was still the need to troubleshoot boards and identify replacement parts, and much time could be spent searching through 5 or 6 Spotmaster 500 manuals to find the one that had a schematic and parts list for that RA-8T record amp that was used in the model 500D, but not in any of your other machines.
The date code on the back of this machin
e indicates it was made in August of 1960, making it a very early model. It was found at the back of a filing cabinet in a station engineering shop at a Boston radio station, where it had been keeping file folders from falling down the back. The original instruction manual was also located. From the numerous dings and dents on the chassis, it seems to have had a hard life, but is in working condition. It is pictured with a BE 2100, representing about 25 years of cart machine evolution. These two machines are slated to be put on display alongside the aforementioned ATC P-190.