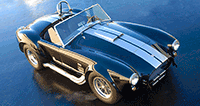 He liked it so much, in fact, that he built his headquarters there, not far from the Las Vegas Speedway, and only about 15 minutes from The Strip (make that <5 minutes if you're driving a GT500KR). Shelby, of course, was the Texan who thought it would be cool to stuff a Ford V-8 into a British 2-seat sports car, and see how much asphalt he could melt (turns out, it was quite a lot).
Shelby American
Along with the Shelby American corporate HQ, there's also the co-located Shelby Museum.
Tours of Shelby American's museum run every day but Sunday, and they're free (one of the few things in Sin City that are), no reservation required. You can take in some amazing cars, like the aforementioned 500KR, the Shelby Series I racing prototype, the GT-H and, of course, Cobras galore. They're located at 6405 Ensworth Street in Las Vegas.