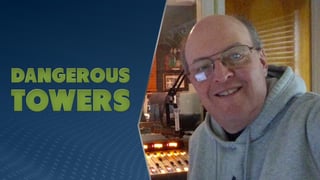 Tom Ray visits a lot of radio stations. He's a full-time broadcast engineering consultant, and an inspector for New York State's Alternative Broadcast Inspection Program. One troubling trend that Tom sees is the deterioration of broadcast towers. Tom joins Chris Tobin and Kirk Harnack to warn us and bring us some good advice.
Guest:
Tom Ray - President, Tom Ray Broadcast Consulting
Show links:
ABIP: Being prepared for an FCC Inspection
Good investment: The importance of regular tower and site maintenance
The Design Flaw That Almost Wiped Out an NYC Skyscraper
History of the Hammond B-3 Organ
Hosts:
Chris Tobin, IP-Solutionist
Kirk Harnack, The Telos Alliance, Delta Radio, & South Seas Broadcasting
Watch the Video!
Topics: Broadcast Engineering, Streaming Audio, audio, audio quality
Subscribe

If you love broadcast audio, you'll love Direct Current! Get it delivered to your inbox weekly!