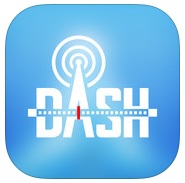 Founded with a belief that the programming on commercial radio is circling the drain, DashRadio launched at the end of August to deliver an alternative. With 50 channels of 24/7 music ranging from hip-hop to jazz to electronic to oldies to disco and everything in between, DashRadio is available on the web and through apps for iPhone and Android. "Our next target is the connected car, that's really where the future lies," explains John Halterman, President of Operations at DashRadio.
Setting up a service with studios for live shows and 50 streams with a realistic budget isn't easy, and that's where the Telos Alliance comes in to the picture. "We couldn't have done it without you," adds Halterman.
DashRadio operates with three studios from its Hollywood command center. In them are an Element, IQ and two Radius consoles. Coming soon is a Telos VX Broadcast VoIP System. "As listenership increases for our live shows, we're getting more calls," explains Halterman. "And it doesn't make sense for our DJs to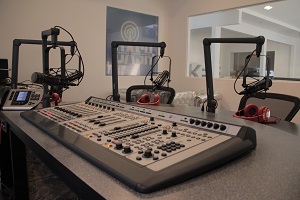 be handling actual telephones when a phone interface is built into the consoles." Halterman was sold on Element consoles once he visited the Axia installation at Universal Studios in Orlando.
On the streaming end, DashRadio uses Omnia A/XE audio processing, which has many advantages over traditional rack-mounted processing gear. It runs in the background as a Windows service, can be fully-managed and configured remotely with a web browser, and can even process and encode multiple streams in various formats simultaneously.
With its Virtual Patch Cables, Omnia A/XE can receive, process and send audio to other software on the PC. Internally encoded Shoutcast or Wowza server streams can be "tagged" with "now-playing" information received from the automation system or another application. Virtual Patch Cables also eliminate sound cards, reducing cost and giving better quality audio.
Managing the programming side of DashRadio is also a logistical challenge, and for that, they found help with automation systems from a Telos partner - Enco Systems. As Halterman explains, "It was a challenging project because we're running multiple instances of automation and multiple music libraries on a single machine." Another great feature of Enco's DAD automation software is remote voice tracking over the Internet, which will enable DJs around the world to log in to DashRadio's machines and create shows.
Scheduling music for 50 channels can also be a Herculean task. For Dash Radio, it is made much simpler with Music Master software. Within one program the music libraries can be managed, format clocks, rule trees and music logs created, and history reports generated. Automation and scheduling software play a large part in enabling DashRadio's rather small staff of 25 to stay on top of everything.
To date, the hip-hop and pop channels have received the most attention and response from listeners, but the plan is to add DJs and more live shows as the service expands, and also expose marginalized talent. "We want DashRadio to be a platform for artists never played on radio, period," notes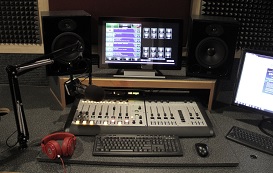 Halterman.
Spontaneity is another key component of the programming side at Dash. "As our facility grows, we want to be able to break away from regular programs and go to live events appropriate for the streams. Recently, Dash provided live coverage of the Sunset Strip Music Festival in September. "That's something that commercial stations would never consider doing," adds Halterman.
DashRadio is also building studios in Kingston, Jamaica to be closer to the live reggae music scene, as well as storefront studios in Manhattan to bring back East Village Radio, a small New York underground station that went under in May.
What makes the facilities at DashRadio all the more impressive is that Halterman, who did all the construction, has a limited technical background. He doesn't like to solder, but will attach XLR connectors to mic cables when the need arises. "I've been in radio for years," he explains, "but always as a production or programming guy. I just start playing with equipment to see what it can do. If I get stuck, I read the manual. If I'm still stuck, I call tech support." He was able to get most of the way through the project on his own, but had some questions as he was setting up the Element console.
Halterman has high praise for the Telos 24/7 tech support team. "They have walked me through some of the difficult steps over the phone, and whenever I called, I got an answer in 30 minutes or less. And to them, there's no such thing as a stupid question."
With 50 live streams available free of charge and no commercials, how is DashRadio monetized? "Name and title sponsorship is one part. Another is corporate sponsorship for the individual channels," explains Halterman. "Also, there will be sponsors for individual DJ shows, which will entail reading a billboard live at the top of the hour." There will definitely be no 8-minute stop sets, as is the norm on commercial radio. Another component of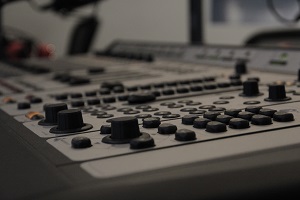 sponsorship is the statistical data that DashRadio can provide. "We have some incredible metrics that we can make available to sponsors," adds Halterman.
Reflecting on the studio construction and initial rollout, Halterman feels that the Telos Alliance has a unique perspective on unusual projects and startup companies such as DashRadio. "As we were planning the project, a lot of the companies we talked to said things like 'That will never work,' or 'We've never done that before.' I never heard that from Telos. They just delivered the absolute best products for the job, and just as important, their gear lets us do things our way."