Find Audio Network Problems before the Jocks Do
Posted by Clark Novak on Aug 28, 2013 2:26:00 PM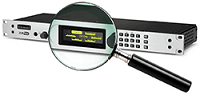 Here is a guest Tech Tip! Anthony Eden works for Hope 103.2, in the beautiful city of Sydney, Australia by day and writes about his experiences with technology on his personal website by night.
How do you know when something has gone wrong on your Livewire network? Do the jocks come screaming to you? You can get ahead of the curve by configuring your Telos Alliance gear to message you using a little logging and alerting protocol called "SysLog."
This nifty protocol allows you to centrally log messages from a variety of equipment, and trigger alerts based on their importance. There are two components: the client and the server. The client simply sends a UDP packet to the server, and it's up to the server to actually do something with it.
You get to choose what software you use. Telos has their own free SysLog Server, but I prefer the What's Up Gold FREE SysLog Server for it's more advanced event-based alerting. If you have Nagios or another network monitoring tool, you may be able to use that. Hey, you could even write your own in under 20 lines of code!
Configuration is a simple matter of putting the server's IP address into the Web GUI of your equipment. This can be found in the System page of your Axia Node, the Diagnostics page of your Element Engine and the Log Setup page of a QOR engine. Most IP-enabled Telos Alliance gear supports this protocol.
Once you've done this, you should start seeing log entries appear in your server software. When navigating around the Web GUI, you'll probably see some Error messages but otherwise on a healthy Livewire network you won't see too much.
The next step is to setup your alerting. How you do this and what rules you use is a matter of personal preference. In the What's Up Gold server, I choose to have anything at the Critical level or above trigger an email. I find there is too much noise at the Error level so I tend to ignore this. After a while you will get a feel for the types of messages your equipment generates, and you can setup keyword filters to treat the various messages differently.
Bonus Tip: You can also setup other devices such as a Cisco Switches to send SysLog alerts to that exact same server! It's a common protocol so plenty of devices support it.
Topics: Axia Audio, Audio Quality Monitoring & Analysis, Audio Engineering
Subscribe

If you love broadcast audio, you'll love Direct Current! Get it delivered to your inbox weekly!