Finding our WAY in Radio
Posted by Tom Vernon on Nov 30, 2012 2:20:00 PM
Telos Alliance gear clicks for Way Media Group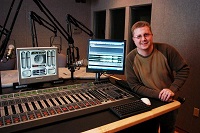 IP audio is clearly the best infrastructure for a broadcast plant, but whose system should you buy? For Jon Garrison, Southern Regional Engineer for Way Media, the choice was clear. The company was planning an upgrade to four studios in its Nashville facilities. "We looked at several of the leading brands," Garrison told us, "but we went with Axia because it offered the best price point and it does everything we want."
Way Media, Inc. began in 1987 as a single FM station in Ft. Myers Florida. Over the years it has extended its outreach, both by acquiring additional stations and offering satellite programming services to other Christian stations. Over the years, its headquarters moved from Florida to Nashville, so it could be closer to the music scene. Still later, operations were transferred to Colorado Springs, Colorado, where they are today.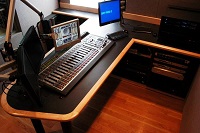 Currently, WAY-FM owns and operates 14 full power FM radio stations including newly added stations in Denver, Colorado; Wichita, Kansas and Tallahassee, Florida. WAY-FM also operates more than 20 low-power repeater stations. The WAY Media Network Services (WMNS) serves over 25 additional radio stations nationwide with satellite programming. Today, more than 70 cities are served by either a WAY-FM station or repeater.
"The transition from analog consoles to an IP platform was huge," recalls Garrison. "We thought there would be a steep learning curve, but instead it was really easy." Garrison and the Nashville engineering staff worked alongside Telos installers for two days. They completed the final studio on their own. Once that project was complete, they began to look at other gear from the Telos Alliance.

Way Media has purchased Omnia processors for many of its stations - Omnia ONEs in Evansville, Huntsville, Birmingham; Bowling Green and Portland, Oregon, and Omnia-6s for Nashville and Louisville. "They just sound great right out of the box," adds Garrison. "We've tried to tweak the presets, but we usually come back to the original settings. They're just difficult to improve on."
As they were planning to replace outdated phone systems in Nashville, Telos was a natural choice. Nx12 Talkshow Systems were installed in four studios. "We have caller-intensive morning and afternoon shows with an assistant producer screening calls," adds Garrison. "The Nx12 is easy to set up and has a lot going for it." Among the features that he likes are the multiple digital hybrids, each with its own AGC, noise gate, and caller override dynamics.
It's not just the great gear that keeps Telos Alliance customers coming back, it's also great people. Garrison recalls in particular Omnia's Cornelius Gould. "He was a great help when we were setting up our Omnia 6. We sent Cornelius files of our unprocessed program audio and off-air audio for the same time. He listened to them both and sent back presets that were exactly what we were looking for."
Topics: The Telos Alliance Brands
Subscribe

If you love broadcast audio, you'll love Direct Current! Get it delivered to your inbox weekly!