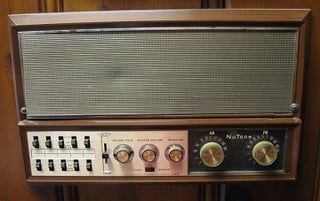 Radios come in all shapes and sizes, and this column seeks out some of the forgotten and unusual examples. Previous installments have examined farm radios, unlikely portables and early clock radios. This time around, we'll look at the NuTone 2067B transistor radio intercom system. It dates to 1965, when home radio-intercoms were something of a status symbol in larger houses.
These systems enabled users to play music through any or all of the up to ten intercom stations throughout the house. In addition to the AM-FM radio, records or tapes could be played via the external input jack. The intercom portion enabled room-to-room communication, plus the ability to answer the door, if there was an outdoor intercom station. Also, the home intercom could be connected to a NuTone doorbell chime, so the chimes could be audible through the intercom stations.
In 1966 the 2067-68 Master Station had a list price of $152.00. NuTone still sells home intercoms, although today they are known as "in-home entertainment, security and communications systems."
Home intercoms can also be looked on as another in a line of home electronics devices that were supposed to enhance the value of real estate. In the 70s, home alarm systems were popular. Radio Shack was a big player in the home security market. Many had foil around the windows to detect breakage. Foil worked, but the ugly factor was pretty significant. In the 80s, as personal computers were becoming popular, new homes were being wired with Cat-3 cable and wall-mounted RJ-45 jacks so that computers could be located anywhere in the house. With WiFi and Bluetooth, that idea is definitely passe. Today, the rage is connected homes, where everything can be remotely controlled via your smart phone. There has already been some pushback, with the realization that anything you can access can also be accessed by hackers. Possibili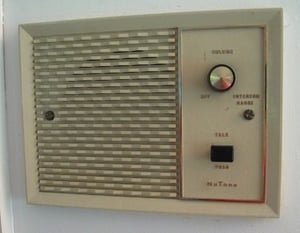 ties range from unlocking your doors for burglary to pranksters turning your heat off in the dead of winter.
All of these devices may help to sell new houses, but with the passage of time, only serve to make a house seem dated, and usually end up being removed.
Our NuTone 2067B was not really found in the attic, but is actually a part of the house. The master station is located in the kitchen, and there are intercoms in the master bedroom and living room. It has not been used for decades. The master station barely works, with a lot of hum as well as static from noisy switches and volume pots.
Most houses have had these units removed years ago as part of a remodeling. Surprisingly, there is a web site with a restoration log for the 2067 intercom. Perhaps they are old enough, and rare enough that they will ride a nostalgia wave and have some vintage appeal. The only reason that this unit has survived is because of its location in the middle of a pine paneled wall. Removing it would leave a big hole, and the cost of fabricating replacement panels would be prohibitive.