Found in the Attic: Uher 4000
Posted by Tom Vernon on Dec 28, 2015 1:40:33 PM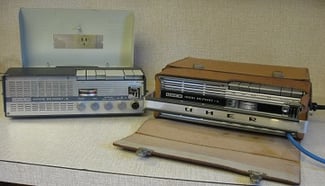 Back in the days when every radio station worth its salt had a news department, broadcast equipment catalogs had a section for remote news gathering equipment. Included were items like the indestructible EV-635A microphone, mic flags, NiCad batteries and chargers, telephone couplers and of course, portable recorders.
Possibly the best remembered recorder brands were Marantz, or a bit earlier, Superscope. But electronic news gathering was commonplace before the coming of cassette recorders. This installment of Found in the Attic goes back a bit further in time, and recalls the days when breaking news events, interviews and press conferences were recorded on reel tape, notably with the Uher 4000 Report L portable recorder.
Based in Munich, Uher Werke made several types of recorders, but is probably best remembered today for their 4000 series of portable machines, which were introduced in 1961 The 4000 Report series were widely used by radio news journalists, but Uher also offered the 1000 and 1200 Report machines. These ran at 15 IPS, and had a sync track for film synchronization. Few were ever sighted in the field. The market for motion picture sound recorders was always dominated by the Swiss with Nagra and Stellavox machines.
Uher 4000s were also used by law enforcement personnel for telephone wire taps and for recording interrogations, or for covertly recording an important conversation in a room.
The release of 4000 Report models did not follow alphabetical order. First came the original 4000 Report, which was in production from 1961-1962. Next came the Report S, sold from 1963-1965. The L appeared in 1965, and ceased production in 1966. Finally, Uher released the IC, which sold from 1972-1975.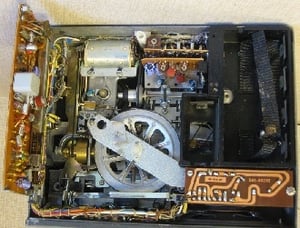 All were externally similar, most of the differences were in improved electronics. The final model in the series, the Report 6000, was released in 1986, and featured a 3-motor transport and electronic control.
The 4000 Report was a premium-grade machine, and as such it had a commanding price. It was famous for its ability to take abuse, work in harsh environments, and still deliver top-quality sound. Due to the high cost, few were sighted in U.S. small market radio news departments. They were widely used by broadcasters in Europe, and by correspondents from news organizations like AP, UPI and Reuters.
The 4000 L recorded at four speeds – 15/16, 1 7/8, 3 ¾ and 7 ½ IPS. With a 5-inch reel, the maximum record time was 4 hours per side at 15/16, but at the more standard speed of 7 ½, that dropped to 30 minutes per side. Frequency response ranged from 40-4,500 Hz at 15/16, to a respectable 40-20,000 Hz at 7 ½ IPS.
This machine got its juice either from five D-cells or a rechargeable gel cell that is installed in a compartment that can be accessed via the removable bottom panel. Alternatively, it can be powered by an external power transformer, or an internal one that fits inside the battery holder.
Carrying the UHER 4000 around was easy. There are pins on each side near the front panel. You can attach a conventional handle, a leather or canvas strap, or the leather case. The case came in brown or black, and had slots and holes so the connectors and controls were accessible. The tape was accessible by opening the top flap.
The UHER 4000 has three sock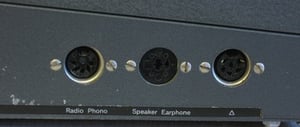 ets on the right side. The rightmost connector is an accessory socket, the middle is a 2-pin DIN connector for an external speaker or headphones. To the left is the line input/output.
The Report L is easily repairable, and with new belts and caps, can easily be bought back to original specs. The original Report and Report S can be more problematic. The drive motor is the Achilles heel of these machines. Over time, they would slow down and become erratic. Since the motors were sealed units, they could not be opened up to clean the bearings. Back in the day, replacements cost around $200. The motor for the Report L was more robust and long-lived, but since the pulleys for the L and S were different sizes, these motors could not be interchanged.
Uher is still in business, although the tape recorder product lines are long gone. Today, the company distributes high-quality solutions for office communications. Brands include Cannon, Phillips, Nuance, Sennheiser and UTAX.
Pictured above are a Report L and S. The S came from a dumpster diving expedition, and has the aforementioned motor problems. The L is a Vietnam veteran, having been used by an AP reporter to cover the war. It still has its original leather carrying case, which has clearly seen better days. The machine was completely rebuilt in the early 90s, and used for its intended purpose. Both are now display objects waiting patiently for a space to show off.
Topics: Vintage Electronics
Subscribe

If you love broadcast audio, you'll love Direct Current! Get it delivered to your inbox weekly!