Found in the Attic: Yaesu FRG-7
Posted by Tom Vernon on Dec 30, 2015 2:53:14 PM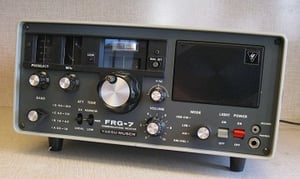 The hobby of short wave listening is not dead. OK, there aren't as many choices as there once were. Many European short wave broadcasters have abandoned their transmitters and towers in favor of online streaming as the economic slowdown strangled the budgets of many operations. Still, there are enough stations out there to keep the hobby alive. So, put on your bellbottoms as we go tripping back to the 1970s to check out a Yaesu FRG-7 communications receiver, affectionately nicknamed the 'FROG 7'.
The Frog is a solid state, triple conversion superhet receiver covering 500 Khz to 29.9 Mhz in four bands. Modes of reception include AM, USB and LSB/CW. It includes a front-end attenuator, preselector and tone control to tailor audio response.
The Frog's circuitry utilized frequency synthesis, and was one of the first radios to use Wadley Loop design. The circuit featured an oscillator which generated harmonics at 1 Mhz intervals. Most of the front panel controls are conventional, and there is a red LED that lights when the synthesized oscillator is unlocked.
Around back, the FRG has a couple of antenna options. A coaxial connector is available for shortwave antennas, and there are additional posts for AM, ground and receiver mute. Common to other Yaesu receivers, the FRG has 3-way power. Plug it in to AC, use and external 12 volt DC supply, or use the internal battery pack, which takes eight D cells.
Even though the FRG-7 was in produc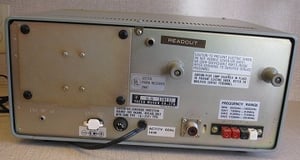 tion from 1976 to 1980, it is one of those classic designs that remains popular to this day. There are usually a large number of FRG-7s for sale on eBay, and many aftermarket kits available to upgrade performance. Kiwa Electronics, for example, sells an audio and power supply upgrade that enhances the sound quality. The also offer a mini filter switch board which replaces the original FRG-7 band pass filter. It gives user the option of a 6.2 Khz bandpass for general listening, or a narrow bandwidth, 3.7 Khz setting for single sideband or DXing weak signals. The mod requires you to mount a toggle switch on the back of the receiver. Combine this with an aftermarket 100 Khz calibrator, and the performance of the Frog is brought up to 21st century standards.
Monitor Internet has info for two additional mods. One is a tweak to the fine tuning adjustment. It reduces the range from the rather ample +/- 6.2 Khz to something more manageable. The second is an upgrade to the red 'LOCK' led. It uses a small circuit board with a tri-color LED and transistor switch. The modified circuit will indicate red for unlocked, green for locked. Other mods were available, such as additional filters, a switchable AGC and digital readout.
In addition to the great performance, the FRG is known for easy maintenance. When purchasing a used one, all you need to do is replace about a dozen electrolytics, touch up a few adjustments and you're done. Circuit boards are large and easy to work on, since the Frog also came into existence before surface mount components were the norm. Service manuals and schematics are readily available as free downloads on the Internet.
The Frog was designed shortly before the advent of specialty components. That means that even 36 years after it was built, virtually all parts are readily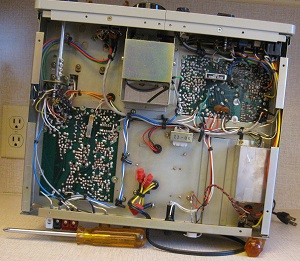 available. Dial lights occasionally burn out with the passing of decades, but these days, those are best replaced with LEDs. If you live in an area that is prone to lightning, you may want to keep a couple NTE454s on hand, those are a modern replacement for the front end FET.
Yaesu began in 1956 as General Television Service Co Ltd. In Oka-ku, Tokyo. In 1959 founder Sako Hasegawa shifted direction for the company and began to design HF single sideband equipment for the amateur radio market. The company's first product was a crystal controlled single band 40 meter transmitter, the FL-10/40. Soon afterwards came the FL-20, a 5 band crystal controlled mechanical filter HF transmitter.
In 1964, the company moved to Yaesu, Chuo-ku, Tokyo, and adopted the company name of Yaesu Musen Co. Ltd. Musen is the Japanese word for radio. By 1965 the company had developed its F-Line as a complete SSB ham radio station. It included the FR-100B amateur band receiver, the SP-100 matching speaker, the FL-100B or FL-200B transmitters as well as the FL-1000 1Kw linear amplifier. Over the years, the product line grew to include marine gear and communications receivers.
Our FRG-7 came from a college surplus grab in the early 80s. It arrived in working condition, only needing new caps and a general cleanup to put it back in shape. It is currently used for short wave listening in the home office.
Subscribe

If you love broadcast audio, you'll love Direct Current! Get it delivered to your inbox weekly!