Just as Dorothy in "The Wizard of Oz" asks Toto if they're still in Kansas, I've been wondering if our Cavaliers Championship has been just that—a dream. Well Dorothy…
IT'S NOT! WE ARE THE CHAMPIONS!
The Cavs came back from a 3-1 deficit and did the unthinkable to a highly rated (some might say overrated) team from the Bay Area. All those "in the know" said the Cavs were done after falling into a 2-0 hole. Take that Stephen A. Smith of ESPN! How does that humble pie taste now?!
Well, seems this Cavs story, on the biggest stage, is not much different than another Cleveland team that did the *supposed* unthinkable as Omnia Audio took away an 85% world market share from another Bay Area group, and now possesses the world's leading market share in audio processing (which keeps growing by the way!).
Thus, it's with a HUGE sense of p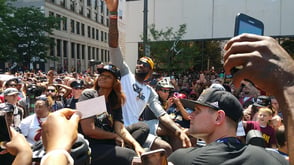 rofessional and local sports-loving pride, along with many of our amazing crew, that we were on-hand to cheer wildly as the hometown heroes—the Cleveland Cavaliers—paraded through the streets and shared this world championship with at least 1.3 million people! Y
esterday, the streets of downtown Cleveland surrounding the Telos Alliance were overrun with exuberant fans out to pay tribute to the Cavs for what was their first NBA championship victory. The buzz was electric as the city rejoiced the end of a 52-year drought without a single major sports championship.
(Check out our slideshow below, and while you're at it, download the
C'mon Cavs!

Ringtone
.) It was great day for all involved. THANK YOU CAVS!!!
"Come On Cavs… You sure made it happen!!"
"Fans stood on rooftops, portable toilets and hung out of office building windows hoping to get a glimpse of James, who rode in a Rolls-Royce convertible with his wife, Savannah, and their three children. Near the start of the route and just feet from where his iconic, 10-stories-tall banner hangs, James stood and posed with his arms outstretched just as he does on the giant mural — life imitating art, the photo op of a lifetime... The crowd was packed so tightly that fans could reach out and high-five their heroes."

—The Associated Press