Happy Birthday to the Xbox's great, great, great, great, great granddaddy
Posted by Clark Novak on Jan 31, 2012 4:22:00 PM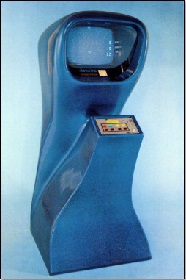 The brain trust at MIT have been responsible for quite a few innovations over the course of 151 years (1861 being the date of its founding). Famous grads include William Shockley, part of the Bell Labs team that invented the transistor, Ray Tomlinson, who developed e-mail on Arpanet, Bill Hewlett of HP fame, and Bob Metcalf, inventor of Ethernet and founder of 3Com. But this year, another product of an MIT graduate turned 50 years old: the computer game.
It was in 1962 that students Steve Russell, Martin Graetz and Wayne Wiitanen invented Spacewar!, the very first graphical computer game, programmed on a DEC PDP-1 in the Computer Science Department at MIT. This, combined with the march of component miniaturization and a logarithmic increase in computing power, led directly to Nolan Bushnell's introduction in 1971 of the first arcade computer game, Computer Space Space (seen here). Check out the whole story at Technologizer - and if you really want to waste some time, you and a friend can still play the original Spacewar! code, running on a Java PDP-1 emulator. Just remember to compensate for the gravity well.
Topics: Vintage Electronics
Subscribe

If you love broadcast audio, you'll love Direct Current! Get it delivered to your inbox weekly!