Introducing the VOCO 8
Posted by Shane Toven on Jul 16, 2015 10:31:00 AM

The Omnia VOCO® 8 Networked Microphone System combines 8 high performance preamplifiers with up to 8 channels of comprehensive Omnia.S4 3-band microphone processing including analog, AES, and Livewire+/AES67 Audio over IP connectivity with full IP remote control in a compact 2 rack unit high package.
The S4 HQSound algorithms perform all processing at 192 kHz—ensuring no detail is missed, from the smallest whisper to the most energetic morning show antics. Speaking of morning shows, VOCO's "Dominate-It" feature allows a host mic to automatically attenuate guest mics and maintain dominance in the mix without manually riding levels. Dual internal mix busses allow multiple mics to be combined on a single console fader for board-op convenience.
To manage speech transients, VOCO 8 has a unique de-esser algorithm that automatically tracks the frequency of sibilants in realtime, without the need for manual re-adjustment. The results: the best, most transparent sibilance control you've ever heard.
There's more: a lightning-fast 3-band noise gate provides significant advantages over a traditional gate, and can even isolate external noises, like those made by tables and doors, from voices. From the moment the host begins to speak, VOCO 8 responds -- without cutting off syllables like traditional noise gates. Bands can be linked in master/slave mode for additional flexibility.
Following the noise gate, an additional 3-band processing section is augmented by a 4-band parametric EQ and a transparent brick-wall limiter to smooth out hot-mic situations.
Whether your facility has 2 mics or 200, maintaining the signature sound that your hosts and listeners have come to expect is important. Even if identical microphones and processing are present in every single studio, differences in room acoustics or mic processing adjustments can make it difficult to maintain consistent microphone audio between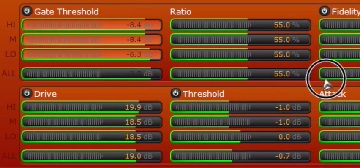 rooms and hosts. VOCO 8 helps maintain the consistency you demand, no matter which studio, mic, or host is on the air, with extensive preset management capabilities -- for individual mic channels, and for entire shows. Each VOCO can save a complete set of custom presets (which can be shared with other networked VOCO units). Update a preset in one studio, and you've automatically updated it in every other studio as well! Of course, preset security is available to help prevent jock tampering.
No matter what microphone "sound" you're going for, the Omnia VOCO® 8 provides powerful and consistent networked microphone processing for your entire facility.
For more details on the VOCO 8, click here. And get more details in this video.
Topics: Omnia Audio
Subscribe

If you love broadcast audio, you'll love Direct Current! Get it delivered to your inbox weekly!