IP Radio for STL: Saves Hassles, Saves Money
Posted by Tom Vernon on Jun 10, 2012 7:00:00 PM
The Joy FM puts 22 Z/IP ONE codecs in STL service

For The Joy FM, a contemporary christian radio station in Florida, with satellite stations throughout the state, things had reached the breaking point. They had been using C-band satellite feeds to distribute the signal, leading to a number of bottlenecks and inefficiencies. "All of our automation computers were at the transmitter sites, which are inhospitable environments," according to contract engineer Dave Anderson. "When the computers inevitably failed, our IT guy had to drive out to the sites." Clearly, it was time for a change. "We started looking for a replacement," adds Anderson. "but nothing had a price point that made sense for us." Enter the Telos Z/IP One.
The Joy FM started out with two units. Things worked out well, and now they have 22 Z/IP Ones in the network. Anderson developed a fully redundant system using the Telos units. The main path is a 35 Mb fiber, while the backup feed is a 10 Mb wireless over Motorola hardware. Two of the four Internet sites can be lost, and stations can still stay on the air. Failures result in no more than two seconds of dead air. Anderson has a tuner at each transmitter site, and uses the return path from the Z/IP Ones for quality monitoring.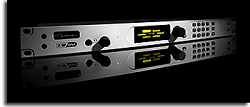 The network of 22 Telos Z/IP Ones enabled a radical restructuring of station resources. Now all automation computers are located in the Sarasota headquarters, greatly reducing maintenance time. Not only does the Z/IP One enable The Joy FM to streamline its operation, it saves money too. "We pay less per month for the Z/IP One infrastructure than we did for satellite, and now there's no single point of failure," adds Anderson.
Anderson is enthusiastic about the audio quality, too. "The difference between satellite feeds and Z/IP One is amazing. Even more impressive though, is the difference between raw audio and Z/IP One. There is none." Anderson set up double-blind tests where listeners could switch headphones between program audio and the Z/IP One output. "Only one audiophile could hear a slight difference, the others couldn't tell which was which," explained Anderson.
Learn more and see if Z/IP could solve some problems for you, too.
Subscribe

If you love broadcast audio, you'll love Direct Current! Get it delivered to your inbox weekly!