Axia Support Engineer Jeff McGinley paid a visit to the Great White North recently, where he provided an overview of Axia's Pathfinder Routing Control software at the 2015 WABE Broadcast Technical Training Seminar in Calgary. Appearances such as these – one of many times our Support staff has presented at the seminar – serve as essential continuing education sessions for engineers in the field, and cover material geared at helping engineers tackle issues they might encounter in their facilities.
"The WABE planning committee reached out to me in January asking if I would be available to do an afternoon course, solely on Pathfinder. There were almost 40 in attendance."
As expected, Jeff says, the appearance was a huge success.
"It was a two-hour presentation followed by some workshop examples… we ended up going almost five hours. I asked the people in attendance to tell me some of the situations that they were facing in their respective plants, and then showed them how to accomplish those things."
Jeff must be a great presenter, because even five hours wasn't enough for some. "I was told by many people that they wished that we had even MORE time to go over Pathfinder!"
Training events such as this are very popular, and always well-received. "We get asked about training courses in Pathfinder quite often in Support," Jeff points out. "The people that were in attendance were really appreciative that we would take the trip up to Calgary to explain more of the advanced functions of Pathfinder."
This type of in-the-field interaction isn't just essential for engineers – it's essential to The Telos Alliance. And it's clear it builds loyalty, as many on hand work with full Axia plants.
And networking with old friends and potential new customers alike is key to building brand loyalty as well. "I saw a number of old friends that I h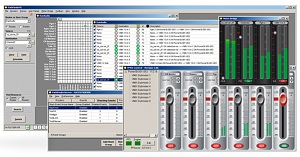 ad made from my previous WABE seminars and site visits, and finally met even more that I have been talking to on the phone for years. But after we finished up, two guys came up to me and confessed that they didn't even have an Axia plant or a single Livewire-based device. They decided to stay around for a few minutes to see what this Pathfinder thing was all about, and ended up being so interested that they stayed for the entire thing."
Reaction like this is what we love to see, and reinforces the value of on-site visits. Further, it reinforces our commitment to our customers, and displays our genuine interest in helping the greater broadcast community succeed.