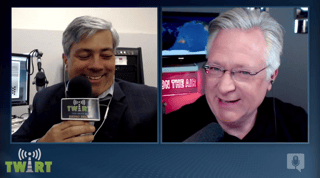 Well, that's one of many subjects that Chris Tobin and Kirk Harnack are discussing on this episode. Others include Burli newsroom software, Harris VistaMax, Shure SM7, Telos iPort PLUS parallel audio distribution, and Krone block patch cables. And, will President Trump replace FCC Chairman Wheeler?
Hosts: Chris Tobin, IP-Solutionist and Kirk Harnack, The Telos Alliance, Delta Radio, & South Seas Broadcasting
Links from the show:
Gentlemen, Move Your Dishes - Radio Networks Moving to AMC-18 (or SES-11?)
Krone Block information from the Online Engineer
Connecting the Land Down Under - via Satellite and Terrestrial Internet
Watch the Video!
Subscribe

If you love broadcast audio, you'll love Direct Current! Get it delivered to your inbox weekly!