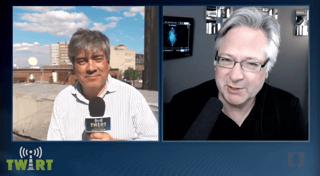 On this week's War Stories episode, Rich Parker shows us a backhoe fade in Ketchikan, translators on Prince of Whales Island, and he hikes the Blueberry Trail to meet a helicopter on Pederson Hill. Chris Tobin is here along with Rich Parker on TWiRT.
Guest: Rich Parker, Director of Engineering at Coast Alaska
Hosts: Chris Tobin, IP-Solutionist and Kirk Harnack, The Telos Alliance, Delta Radio, & South Seas Broadcasting
Links from the show:
KRBD - STL 'backhoe fade' just before leaving for PoW Translator work
KRBD Prince of Wales Island and Ketchikan Translators
KTOO - Pederson Hill Translator Site
Whirlwind Qbox - all-in-one audio line tester
EXCEL Digital Voltmeter XL830L
Watch the Video!