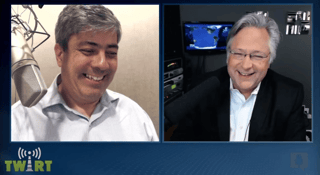 OTT and IPTV are fairly new terms from the Television or Video industries. But more radio stations, podcasts, shows, and show clips are being delivered by the same or similar technologies. Former radio engineer turned TV network guru, Sherrod Munday, joins Chris Tobin and me to talk about audience habits and what infrastructure looks like to make audiences happy in 2016.
Guest: Sherrod Munday, VP-Engineering - Sky Angel Television Network
Hosts: Chris Tobin, IP-Solutionist and Kirk Harnack, The Telos Alliance, Delta Radio, & South Seas Broadcasting
Show links:
OTT - Over The Top content distribution
Watch the Video!
Subscribe

If you love broadcast audio, you'll love Direct Current! Get it delivered to your inbox weekly!