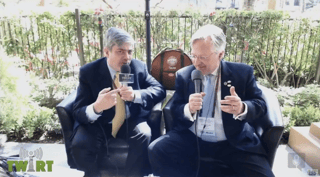 At the end of Day 1 of the Public Radio Engineering Conference, Chris and Kirk get a chance to talk radio engineering - poolside. We're dishing on some radio news stories, like Broadcast Electronics getting a new owner, and he's an engineer! The NAB Radio Show will be held in Austin, Texas, next year, and the full NAB show starts Monday!
Hosts: Chris Tobin, IP-Solutionist and Kirk Harnack, The Telos Alliance, Delta Radio, & South Seas Broadcasting
Watch the Video!
Subscribe

If you love broadcast audio, you'll love Direct Current! Get it delivered to your inbox weekly!