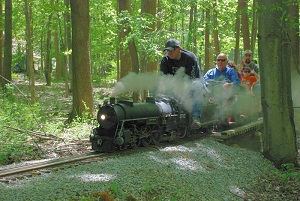 Think these two topics don't have anything in common? It's amazing how many broadcast engineers are model railroaders, too!
Frank Foti, the Godfather of Omnia Audio, is one of them, with a lifelong interest in all things related to trains, from HO models to full scale. "My very first memory, of anything in life, occurred about the age of two," Frank says. "That's when my father sat me down under the Christmas tree to watch an American Flyer electric train circle the tree again and again. I was spellbound by the chuff-chuff sound the American Flyer steam engine made, and also by the smell of the smoker unit. To this day, some fifty-plus years later, I still get a rush whenever the smell of American Flyer smoke is in the air!"
From that childhood Christmas on, he was hooked. Once the A.C. Gilbert Co stopped making American Flyer S gauge trains, Frank got into HO scale. Finally, his lifelong dream was fulfilled about nine years ago when he purchased a 1/8th scale (7.5" gauge) live steam locomotive, named "East Wind" after its 1:1 B&M prototype. Today, Foti is a life-member of of the Lake Shore Live Steamers Club in Kirtland, Ohio.