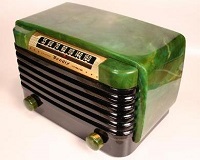 Do you remember those great radio models of yesteryear? Take a walk down radio's memory lane at TubeRadioLand!
You might remember the days before "instant-on" transistor radios, laying in bed by the glow of the 1A7 tube shining from the back of your set, waiting for the filaments to warm and the music to start. Or, maybe your Gramma has an old Bakelite Hoffman sitting under an inch of dust in the garage; either way, they're intriguing remnantsts of days past.
Over at TubeRadioLand, Paul Tunney has much the same memories, and he's spent a lot of time collecting those fondly-remembered sets. Here you'll find Atwater-Kents, RCAs, Spartons, even big art-deco Grigsby-Grunow sets, lovingly restored and documented. Drop by for a visit; we bet you'll find something there to catch your eye.