Smooth Sailing at River Radio
Posted by Tom Vernon on Dec 9, 2015 4:30:00 AM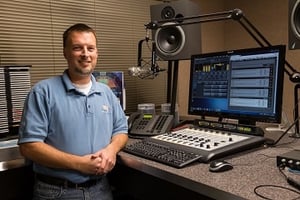 In the future, the battle for the hearts and minds of listeners will be fought on smartphones and in connected cars. Matt Levin, Chief Engineer of One Connection Media Group is one of the engineers who gets it. And he's got the streams for 104.9 the River and 89.3 the River running with the Omnia Z/IP Stream 9X/2. 104.9 The River serves Columbus and Central Ohio, while 89.3 The River reaches out to Chillicothe, Newark and Southeast Ohio. Both stations have a Contemporary Christian format.
9X/2 is the newest software-based processing from Omnia, and it processes and encodes streaming audio for multiple platforms and bit-rates simultaneously.
Levin is no stranger to Omnia processors, the FM stations both are running Omnia.11s, and his interest in streaming with an Omnia 9X/2 began last year when the Omnia 9XE software was released. But having an online audio presence wasn't always this easy.
Levin has been involved with streaming since the beginning. He remembers setting up station streams with Real Player, and later Windows Media and Shoutcast. "Listening online back then could be very frustrating. There were often interruptions when the streams rebuffered, compatibility issues, and poor audio quality." Today, the broadband infrastructure is built out, Wi-Fi hot spots are commonplace, and adaptive coding algorithms have been developed. The connected car has also entered the mix, greatly expanding the potential audience for a station's stream. Until recently, according to Levin, there was still one weak link in the chain.
"The only way to get reasonable audio processing for a web stream had been with an FM audio processor, not a great solution. Then along comes the Z/IP Stream 9X/2, which simply sounds awesome." And that's no surprise. Z/IPStream 9X/2 is actually a third-generation streaming software platform from Omnia. Audio processing and encoding are combined in one platform. The 9X/2 is designed for broadcasters who understand that streaming audio quality and reliability are just as important as terrestrial transmission. Z/IPStream 9X/2 gives broadcasters the power to fine-tune their streams for clear, clean, audio output - no matter the bit rate, codec or delivery platform.
Levin adds, "The de-clipper and Undo functions ahead of the processing in the Z/IP Stream 9X/2 make a huge difference." He notes that lower bitrate encoders don't seem to do well with overly processed, dense program material.
Undo is an exclusive technology that addresses a problem faced by many stations these days - poorly mastered CDs, MP3 files, bad satellite feeds, or any program material which is not broadcast quality. Since it is located ahead of the processing, Undo presents the Z/IP Stream processing engine with near-pristine audio.
"Z/IP Stream 9X/2 gives you the choice of traditional, three-band processing of the original Z/IP Stream X/2, or the more advanced features of the 9X/2," explains Levin. "That means that you have the potential to create the best imaginable stream with the widest compatibility across all delivery platforms. The 9X/2 gives every engineer the ability to create a web stream that sounds just as good, if not better, than an FM signal."
On the encoding side, the 9X/2 gives users a number of options, including high-quality audio codecs from Fraunhofer IIS, such as MP3, AAC-LC, HE-AAC v1 and v2. Also included are codecs for iceCAST/shoutCAST v2, RTMP and HLS. "This is something engineers need to pay attention to," adds Levin. "The Adobe Flash platform is gradually being phased out. Everything is headed towards HLS. Our stations have been using it for over a year."
Z/IP Stream 9X/2 not only delivers HLS, but also HLS streams with adaptive bitrates. Adaptive Streaming is a delivery method that allows media players to switch bitrates when network conditions change. Z/IPStream 9X/2 supports Microsoft's Smooth Streaming technology, encoding the same stream at multiple bitrates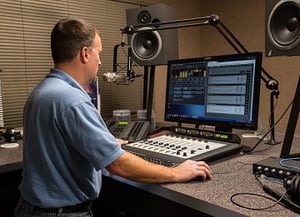 and keeping audio packets sample-aligned. Adaptive Streaming ensures that your listeners are automatically receiving optimal quality and consistency based on the strength of their connection.
Audio processing has always been as much of an art as a science, and there are many paths to a great sound, even with the same audio processor. But Z/IP Stream 9X/2 also gives you the tools to quantify your sound, so you can back your creative ideas with hard numbers. Oscilloscopes, RTAs, FFTs, Full Spectrum Analyzers and all of the additional sonic instrumentation are included in the 9X/2's toolbox. Now you can remove the guess work from audio processing.
As Levin concludes, the time for upgrading your web sound is now. "Smartphones are everywhere now, and the connected car is the next frontier for your audience. The Z/IP Stream 9X/2 gives you the ability to make your stream sound just as good, if not better, than your FM signal."
Topics: Streaming Audio
Subscribe

If you love broadcast audio, you'll love Direct Current! Get it delivered to your inbox weekly!