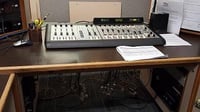 Veldon Leverich is the Director of Engineering for Salem Media's Sacramento cluster. Veldon recently installed an AXIA IQ 8-fader console with a 6 channel Telephone Expansion Chassis, pictured in figure 1. One of the impressive features of AXIA's patented AoIP Livewire+ system is the elimination of lots of wire. Livewire+ is really a paradigm shift for engineers – no more distribution amps, endless punch blocks, or even TRS patch bays.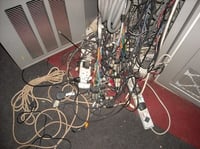 In figure 1, you can see the old unused analog cabling from the previous console, hanging below the table top, and awaiting a pair of dykes to remove it.
Figure 2 IS NOT from SALEM! But it should give you pause to think of how much wire (both single pair and multipair) can be removed from your facility when you convert to Livewire+ and AXIA. Especially in older facilities, where each previous engineer has usually added to the rat's nest! Another advantage is you can upgrade to Livewire+ in steps, one studio at a time.
Got an AXIA/Livewire+ story to share? Email it along with pictures, to John.bisset@telosalliance.com. Published submissions will receive a Telos gift pack.
Subscribe to Direct Current
Learn from the experience of your peers, stay up to date on the latest audio broadcast tech, get updates on Telos Alliance products and more! Delivered weekly via email.
Subscribe to Email Updates