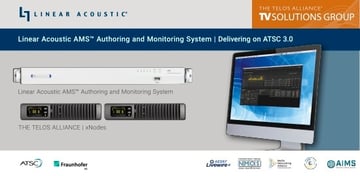 Linear Acoustic® AMS Authoring and Monitoring System is a comprehensive solution for real-time authoring, rendering, and monitoring of advanced audio programs for the ATSC 3.0 Digital Television System. The audio system in ATSC 3.0 provides listeners with a personalized, immersive audio experience using Next Generation Audio (NGA) technologies, including MPEG-H. AMS simultaneously delivers advanced audio for ATSC 3.0 broadcasts and 5.1-/2-ch audio for ATSC 1.0 broadcasts.
Read More
Topics: Linear Acoustic, Television Audio, ATSC 3.0
Subscribe to Direct Current
Learn from the experience of your peers, stay up to date on the latest audio broadcast tech, get updates on Telos Alliance products and more! Delivered weekly via email.
SUBSCRIBE TO EMAIL UPDATES!