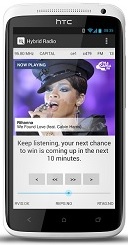 Just when you thought streaming might be the last evolution in the digital journey, along comes hybrid radio which upends everything once again. This disruptive technology forces stations to rethink streaming and begin to develop implementation strategies for hybrid. The rollout is global, although it is proceeding at different stages throughout the world. Hybrid radio works with FM, DAB, DAB+, DMB, DRM, DRM+ and HD.
Read More
Topics: Hybrid Radio
Subscribe to Direct Current
Learn from the experience of your peers, stay up to date on the latest audio broadcast tech, get updates on Telos Alliance products and more! Delivered weekly via email.
SUBSCRIBE TO EMAIL UPDATES!