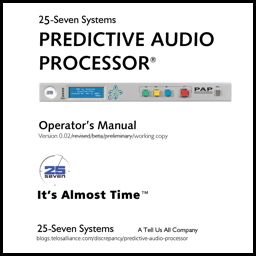 You might think we would be saving our new product announcements for NAB. However, leaking information on the Predictive Audio Processor on April 1 seems to be the right decision.
All that exists right now is the manual, a document so exciting, we are hoping you may not notice that the product will never be released.
As with all of the great 25-Seven manuals, the PAP manual is written by Clio & Emmy Award winning sound designer Jay Rose.
Read More
Topics: Parody
Subscribe to Direct Current
Learn from the experience of your peers, stay up to date on the latest audio broadcast tech, get updates on Telos Alliance products and more! Delivered weekly via email.
SUBSCRIBE TO EMAIL UPDATES!