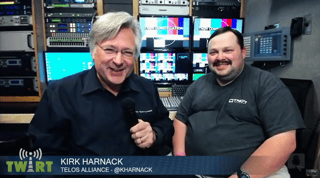 What's inside a modern TV satellite truck? What audio and video capabilities are likely inside? Who makes sure that satellite antenna on the roof is aimed correctly? And what kind of engineer would configure and operate one of these beasts? Robert Pace, a well-known audio, video, and satellite technician in Nashville joins us in the TV sat truck for which he's responsible.
Guest: Robert Pace
Host: Kirk Harnack, The Telos Alliance, Delta Radio, & South Seas Broadcasting
Watch the Video!
Subscribe

If you love broadcast audio, you'll love Direct Current! Get it delivered to your inbox weekly!