24/7 Support Scores High with Emmis Terre Haute
By Dave Sarkies on May 6, 2014 12:30:00 PM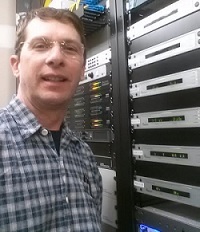 Knowing your broadcast equipment is reliable is important to a radio engineer. But when issues do arise, it's good to know there's someone available for support too. That's why Radio Engineer Ken Myers of Emmis Communications in Terre Haute, Indiana was pleased when Emmis furnished four newly built studios with Axia and Omnia gear in 2012.
The studios for WTHI (Country), WWVR (Rock), WFNB (Hot AC) and WFNF (Sports) are equipped with Pathfinder, Axia IQ and Radius consoles, Axia xNodes, and Omnia processors. Ken says he couldn't be more pleased with the performance. "It's amazing the products they've offered up. Everything just works."
And what more could you ask for?
Easy & Convenient
An Emmis veteran of over 15 years and radio engineer since the 1980's, Ken is glad to report that equipment failures are less common these days. While this may be true, knowing support is always at the ready only adds to the value for Ken. Like other Axia and Omnia users, he knows anytime there's an issue, it's just a matter of a phone call to Telos' 24/7 Support team. And if something needs replaced, it's easy to swap it out. "I've been pleasantly surprised by the support…. It's neat to have those kinds of people to work with."
Ken adds, "The support has been some of the best in the industry. All of the
Telos companies have great service… Must be in your Pledge or something!"
It is Ken!
Topics: Telos Alliance 24/7 Support
Subscribe

If you love broadcast audio, you'll love Direct Current! Get it delivered to your inbox weekly!