Five Minutes to Awesome Audio
By Tom Vernon on Dec 23, 2010 3:22:00 PM
Emmis puts Omnia.11 to work in Terre Haute
Emmis Communications in Terrre Haute Indiana is an all-Axia plant. Starting with the original buildout of two on-air and two production studios through equipping two more stations, the staff and management loved what they saw and heard. So it was no surprise that when it came time for Emmis to revamp their audio processing, Omnia was their first choice.
"One of our FMs has a 'Bob' format," explains Kendall Myers, Director of Engineering for Emmis Terre Haute. "That means we're playing a mix of music ranging from the early '70s through today, spanning about 40 years. That represents several generations of mixing and recording technologies." Sales representatives from Broadcasters General Store suggested that the Omnia 11 might be a better choice for their format. Myers agreed, and the purchase was made.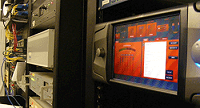 Installation was surprisingly simple "It went from out of the box to making great audio in five minutes," recalls Myers.
Omnia.11 guides you through the process
An installation wizard in Omnia 11 walks users through a simple, step-by-step process to get started. Just answer some questions, and Omnia.11 will adapt itself, creating a preset which delivers the desired end result quickly.
The Omnia 11 faced a tough challenge in Terre Haute. "Our new FM is 20 miles out of metro with a 6 Kw signal. We were trying to attract a largely female audience, which meant we needed a clean signal with minimal listener fatigue. At the same time, we couldn't afford to give up any loudness."
Of course, Omnia 11 was up to the challenge. That's because, unlike some other processor offerings, it isn't just a rehash of an older platform. Everything from the the GUI to every algorithm was re-thought, and in most cases completely re-engineered or re-designed.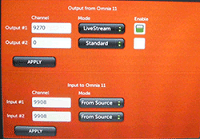 Omnia ships with Livewire, so it plugged right into Myers' Axia network (though AES/EBU digital and analog I/O is standard, too). Headphone soft "patch points" are available for listening through the processing chain. Myers put the Omnia 11's extra outputs to good use; In addition to feeding the FM transmitter, one is used for the web stream, while another is fed to Axia iProFiler software for audio archiving.
Does Myers have any regrets about purchasing Omnia 11? No way: "I just wish I had the dollars in the budget to buy two more so that all my FM signals could run through them," he says. Maybe an Omnia.11 is what your station's been looking for, too?
Topics: Omnia Audio
Subscribe

If you love broadcast audio, you'll love Direct Current! Get it delivered to your inbox weekly!