A National Treasure: WSM Nashville
By Denny Sanders on Jan 24, 2018 12:00:00 PM
The Friday before Christmas, I was driving from Cleveland to Troy, NY, to pick up my daughter and bring her back to Cleveland to celebrate the holiday with the rest of the family. It's about a nine-hour drive, so I had plenty of time to listen to my music files, internet streams, Pandora, SiriusXM, or the old reliable radio.
Somewhere around 9:00 pm or so, I went to the radio. Since I used to DX as a kid, a wondered what was coming in these days, especially in a portion of the New York Thruway far from any major city where the AM dial would be subject to minimal interference.
I heard the usual suspects... The big all-news radio stations with stories of conflict, anger, and rivalry, and talk stations with commentary and phone calls dealing with conflict, anger, and rivalry.
Then, I hit 650 AM, WSM from Nashville.
The live, Grand Ole Opry broadcast was in full swing—live from the Ryman Auditorium, not the new location at Opryland—and there was old timer Charlie McCoy on harmonica playing "Have Yourself A Merry Little Christmas" pitch perfect, backed by the Opry singers on harmony. With the swirling artifacts from the distant AM skip signal, it literally sounded like it was being transmitted long distance directly from heaven. I have heard a lot or radio in my day, and made quite of bit of it myself, but I have to tell you that this was one of the most touching and beautiful radio transmissions I've ever heard.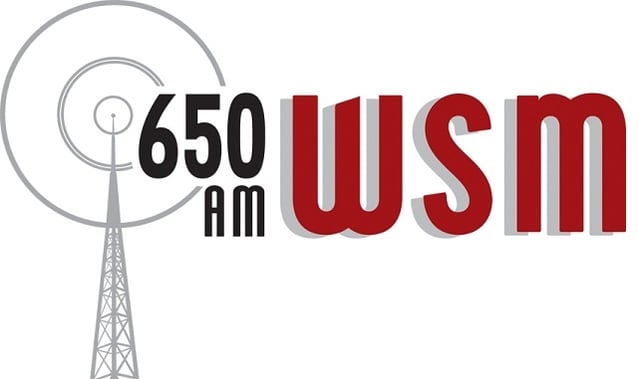 WSM 650 AM Nashville
The signal got a bit funky, so I switched to their internet stream and continued listening to the program.
I'll be honest, I hadn't heard the Opry in any great length for quite a few years. When I was a very young DX'er in Boston, WSM was a prized catch, and when conditions were just right, in they would come. At the time, being a die-hard rock and roll fan, I thought the Opry was a bit too corny for my taste, but I did respect the heritage of the program.
But speeding down the New York Thruway that night, it hit me: This program is not only a true national treasure, but represents humanity and warmth, emotions missing from most of the radio dial these days.
After Charlie McCoy, there was Linda Davis, who literally bubbled with goodwill and a big smile that you didn't have to see to experience, The Whites, and Keith and Kristyn Getty from Belfast, Northern Ireland, who were warmly received by the audience. Even the live commercial for Humana Insurance was read straight and sincere, with no production embellishment.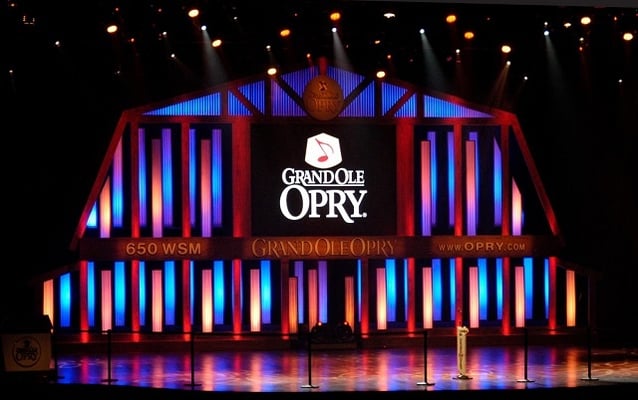 Grand Ole Opry stage
When the show ended, the audience was wished a "Merry Christmas" and was played off to joyous applause. I felt like I just visited a friend's house.
So, I stayed with WSM to hear what was next.
For the next two hours, the station played some of the most charming classic Country Christmas music that I have ever heard. I mean the real thing: material from performers like Cowboy Copas, Bob Wills and his Texas Playboys, and Willie Nelson's version of the song he wrote, "Pretty Paper." No offense to the more widely played Roy Orbison version, but Willie's is the definitive recording. People were emailing the deejay from all over the country (obviously from internet access) and he was reading Christmas greetings to people by name, one right after another.
My God, this was great radio.
I remember that, at one time, the owners of WSM were actually toying with the idea of changing the format to an all-sports station. Allegedly, the public outrage was so great that they backed off.
We don't need another sports talk station.
We need more WSMs.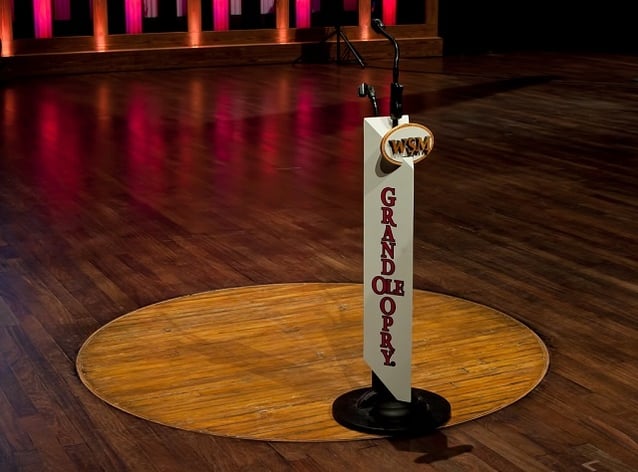 Grand Ole Opry mic, placed on hardwood cutout from the floor of the Ryman Auditorium, home of the original Grand Ole Opry house.
Further Reading
For more about legendary Nashville radio station WSM and the Grand Ole Opry, follow these links:
Nashville broadcasting history
Telos Alliance has led the audio industry's innovation in Broadcast Audio, Digital Mixing & Mastering, Audio Processors & Compression, Broadcast Mixing Consoles, Audio Interfaces, AoIP & VoIP for over three decades. The Telos Alliance family of products include Telos® Systems, Omnia® Audio, Axia® Audio, Linear Acoustic®, 25-Seven® Systems, Minnetonka™ Audio and Jünger Audio. Covering all ranges of Audio Applications for Radio & Television from Telos Infinity IP Intercom Systems, Jünger Audio AIXpressor Audio Processor, Omnia 11 Radio Processors, Axia Networked Quasar Broadcast Mixing Consoles and Linear Acoustic AMS Audio Quality Loudness Monitoring and 25-Seven TVC-15 Watermark Analyzer & Monitor. Telos Alliance offers audio solutions for any and every Radio, Television, Live Events, Podcast & Live Streaming Studio With Telos Alliance "Broadcast Without Limits."
Topics: Radio History, Broadcast History, WSM Nashville
Subscribe

If you love broadcast audio, you'll love Telos Alliance's newsletter. Get it delivered to your inbox by subscribing below!