A Visit to the Past and the Present
By John Bisset on Jul 8, 2015 2:00:00 PM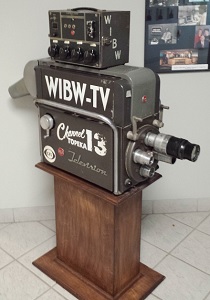 Many Television engineers got their start in radio, and still keep up with happenings in the world of Radio. The staff at WIBW, Channel 13 in Topeka, Kansas, is no exception. My associate from Linear Acoustic, Hal Buttermore, and myself, had the pleasure of speaking to the engineers of SBE Chapter 3, Topeka, Kansas, meeting at the WIBW studios in May. Chief Engineer, Cary Lahnum, led a tour of the facility which included both new and old, including one of the station's old RCA black and white cameras, with an old remote mixer sitting on top.
Cary explained that when John F. Kennedy was assassinated, Walter Cronkite's news bulletin of the event initially was audio only. It took about 20 minutes for the tubes in the camera to warm up, thus delaying the video portion.
Having re-done the main studio, Cary implemented some ideas that can be transferred to radio broadcast performance studios. First was suspending the camera cables from the ceiling. Cary explained that this kept the floor clear – no trips and wiring messes. I've only seen one radio performance studio that wired their cameras the same way, and in that case, the robotic cameras were also mounted from above, leaving the floor clear. Keeping the cables and cameras off the floor has the added benefit of giving the audience clear sight lines of the performers.
Cary also noted the colored adhesive dots placed on the floor. They placed these dots around the robotic camera pedestal radius to keep people away. Cary said you don't want to be hit by one of the cameras rotating to get a shot.
Radio Broadcast groups are incorporating more video, not only in their morning shows, but in developing large performance areas where listeners can come and enjoy a band touring the area. The performance areas can also be sponsored, adding a non-traditional revenue stream for the station. If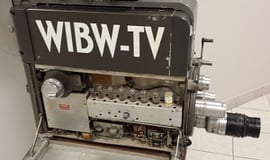 you've developed one of these performance rooms, drop us a line as to what worked and what didn't.
As you plan your audio/video studio, keep in mind that the Telos Alliance has developed an SDI xNode. This xNode brings HD/SD-SDI audio channels into the Livewire and AES-67 Audio over IP domain. This means audio from dual HD/SD-SDI inputs is available to the AoIP network.
One other tip: many of the performance studios I've seen have gone with efficient LED studio lighting, which not only keeps the room cool, but operates at lower costs.
Our story ends on a sad note. WIBW's Chief Engineer, Cary Lahnum, died in his sleep, just days after our SBE meeting. Cary left quite a legacy at WIBW, and he certainly will be missed. We extend condolences to his friends and family.
Topics: Broadcast History
Subscribe

If you love broadcast audio, you'll love Direct Current! Get it delivered to your inbox weekly!