A Walk Down the Aisle with BGS at NAB 2018
As a longtime Telos Alliance dealer, our friends at Broadcasters General Store (BGS) are among the many members of our extended family that we love to catch up with at NAB. We caught up with Dave, Kerry, and Kandice to get their thoughts on this year's show, and their experience at NAB over the years.
Are you excited about NAB 2018?
Absolutely! It's always fun to connect with our customers on a more personal level and the opportunity to meet new customers and spend time with friends is always exciting. We look forward to visiting the Telos Alliance booth, and seeing visitors in our own booth: C2022.
What are your thoughts on some of the latest products the Telos Alliance is developing?
We are jazzed about the Axia IP-Tablet Virtual Radio Software that streamlines control of the broadcast studio. We also look forward to the buzz the new Telos Infinity IP Intercom is creating for both radio and televison. The matrix-free concept is changing the way we think of intercom. Also, the growing use of SIP telephone service with regard to broadcast telephones means broadcasters can save a lot of money!
What are your thoughts on the trend toward Virtual Radio?
We are right in the middle of it. We are very excited about the partnership between Axia IP consoles and Broadcast Bionics. Synergies like this point to the future of broadcasting and social media. Virtual Radio and traditional broadcasting "Hybrid Radio" is the future, and once again, Axia and Broadcast Bionics are leading the way. Both products provide the freedom to create content wherever you are, instantly responding to your listeners. It's also exciting to see radio's ability to adapt to new technologies, remaining relevant even with today's younger listeners who are getting their info and entertainment from multiple platforms.
Are you excited for your continued partnership with the Telos Alliance?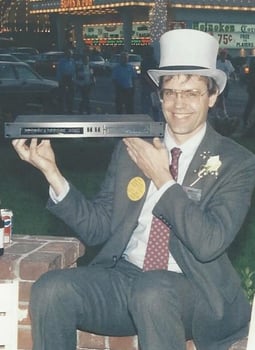 Our partnership with the Telos Alliance has been like no other we've encountered in our almost 40 years of business. We consider you extended family and are looking forward to growing that family throughout the radio and television broadcast Industry.
What do you enjoy most about NAB?
It's always nice to meet face-to-face with the customers you work with over the phone. The excitement on the floor is contagious, and engaging with people who are just as excited about these new products keeps us energized. NAB opens us up to new friends, new gear, and best of all, reunites us with old friends!
Anything specific you're looking forward to at this year's show?
Getting our hands on the new products is always a good time. NAB is a great place to find out our customers' needs, and listen to their opinions on the pulse of the industry and where they see things moving forward.
Thanks guys! We look forward to seeing you in Vegas next month!
Visit BGS at NAB 2018 in Booth C2022.

Further Reading
For more on our presence at NAB 2018, check out these stories:
Keeping Broadcasters in the Know
Infinity IP Intercom Launches in Radio Market
For more details on the products mentioned here, check out their product pages:
Axia IP-Tablet
Telos Alliance has led the audio industry's innovation in Broadcast Audio, Digital Mixing & Mastering, Audio Processors & Compression, Broadcast Mixing Consoles, Audio Interfaces, AoIP & VoIP for over three decades. The Telos Alliance family of products include Telos® Systems, Omnia® Audio, Axia® Audio, Linear Acoustic®, 25-Seven® Systems, Minnetonka™ Audio and Jünger Audio. Covering all ranges of Audio Applications for Radio & Television from Telos Infinity IP Intercom Systems, Jünger Audio AIXpressor Audio Processor, Omnia 11 Radio Processors, Axia Networked Quasar Broadcast Mixing Consoles and Linear Acoustic AMS Audio Quality Loudness Monitoring and 25-Seven TVC-15 Watermark Analyzer & Monitor. Telos Alliance offers audio solutions for any and every Radio, Television, Live Events, Podcast & Live Streaming Studio With Telos Alliance "Broadcast Without Limits."
Topics: Telos Allilance, Broadcasters General Store, NAB 2018
Subscribe

If you love broadcast audio, you'll love Telos Alliance's newsletter. Get it delivered to your inbox by subscribing below!