Meet the Boy Wonder
By Dave Sarkies on Nov 18, 2015 1:19:00 PM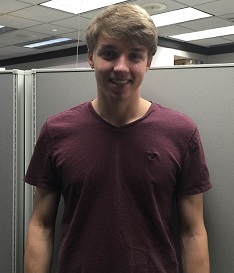 If the 24/7 Telos Alliance Support team could be viewed as superheroes (and they do possess special powers, after all), Addison Burnside would take the role of Boy Wonder. Addison joined the Support team at the ripe old age of 18, and is in his third year with The Telos Alliance. So how does an 18-year-old high school kid from Arizona land a job with Telos Alliance 24/7 Support? Meet our resident engineering prodigy and find out!
TA: You're from Arizona and still in college - how did you end up in Cleveland working at The Telos Alliance and attending Cleveland State University?
Addison: From the ages of 10-18 I volunteered and worked in theater doing everything from concerts to musicals and learned a good amount of live audio.
I attended and eventually worked for a high school that owned a 2,000W non-commercial FM station in the Phoenix area. As a high school student I fell into the role of "chief engineer," working on just about every piece of gear short of the transmitter and antenna. Through a lot of tinkering I learned a lot about the broadcast style of professional audio. The station has since built a 15,000W non-comm.
In my second year at the station we were finally given the approval to purchase some new equipment to bring us a little further up to date. We went to NAB to look at all the console manufacturers and other miscellaneous gear. We planned on spending about $25,000. Well $400,000 of gear later we had a brand new 3 studio facility completely built out with Axia (read about Addison's high school radio station here).
Through the long process of spec'ing, purchasing and getting it all set up, Jeff McGinley and David Jablonski asked me to come be a member of the support team.
Because I needed to start my bachelor's degree, I agreed to work part-time while I went to school.
TA: What is your current role with the Support team?
Addison: Since being hired on as a Support Representative I have been moved to a role that is 50% Support, helping customers with Axia, Telos, Omnia and 25-Seven, and 50% Research & Development, where I have been focusing mostly on user experience and graphical user interfaces.
I also spend a couple weeks out of the year helping Marketing by preparing all of the equipment for the NAB show floor.
TA: What are you studying at CSU? How far along are you?
Addison: I am studying Mechanical Engineering. I am in my junior (3rd) year of my bachelor's degree. I hope to pursue a master's.
TA: Do you plan to pursue a career as a broadcast engineer? If not, what are you looking to do upon graduation?
Addison: I don't know for certain where the compass will land but I hope to pursue a career that allows me to utilize the mechanical aspects of my degree while still working in a production environment that incorporates audio, lighting, etc.
TA: You've been to NAB a couple times - what's that been like for you?
Addison: NAB is a unique experie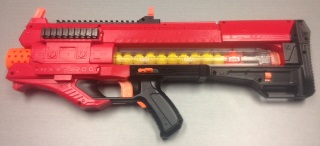 nce for me because my first NAB I was there looking for new equipment as a customer, the next year at NAB I was being interviewed for a position with the company, and the next year I was on the floor working in our booth as an Axia "expert" (air quotes).
TA: Have you enjoyed your experience here at Telos?
Addison: I absolutely love Telos. Everyday there is something new for me to work on and I'm always getting to venture outside my area of knowledge into the unknown. I also like running around annihilating people with my Nerf guns.
Ahh yes... The Nerf guns! The Boy Wonder's weapon of choice.
Topics: The Telos Alliance
Subscribe

If you love broadcast audio, you'll love Direct Current! Get it delivered to your inbox weekly!