AES67, AoIP, and Virtual / Cloud Broadcasting Sessions at NAB 2018! | Telos Alliance
By The Telos Alliance Team on Mar 14, 2018 1:00:00 PM
AES67, AoIP, and Virtual / Cloud Broadcasting Sessions at NAB 2018!
In addition to showing exciting broadcast tools, the Telos Alliance demonstrates its continued commitment to keeping broadcasters up to speed on the latest concepts and technologies with several important educational sessions at NAB 2018.
"Telos Alliance has always put a huge emphasis on training both users and dealers," says Marty Sacks, VP of Sales, Support, and Marketing at Telos Alliance. "There is so much to learn about the ever-evolving broadcast landscape. At NAB, our emphasis is on showing both users and dealers how they can create a truly integrated AoIP environment—whether radio or TV, virtual- or hardware-based. Our solutions-oriented products, all operating on an AoIP backbone, revolutionize workflows and allow broadcasters to operate way more efficiently, all while plugging them into to the largest AoIP ecosystem in broadcast—Livewire+ AES67."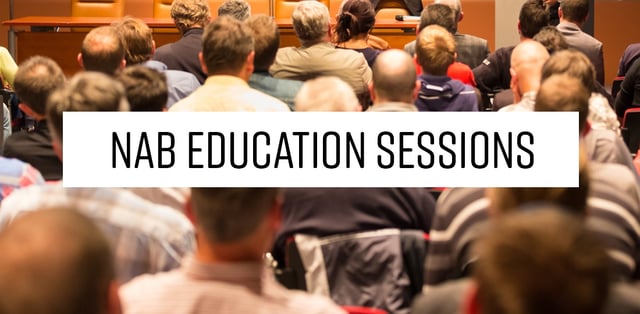 Telos Alliance-led educational sessions happen over several days at NAB, and the company is also hosting special Telos Alliance Dealer Training sessions. Sessions open to the public are as follows:
New Tools Lead to New Workflows for On-Air Radio Talent
1:30–2:50 p.m., Saturday, 7 April 2018, in Room N260 (Kirk Harnack, the Telos Alliance)
"Virtual Radio" is the buzz-phrase among forward-thinking radio broadcasters. The term implies new tools, new methods, and new workflows for producing compelling audio content. Workflow virtualization is now taking several directions. A common theme within these manifestations is the abstraction of traditional hardware into graphical user interfaces. A hardware audio console with faders, buttons, knobs, switches, and meters is no longer a requirement for creating a radio show. With any paradigm shift in technology or workflows there will be multiple approaches to achieving similar ends. This presentation explores workflow improvements through equipment virtualization. It also examines several approaches in achieving similar outcomes aimed at producing more meaningful content with accuracy and convenience.
Latest Updates on Audio over IP & AES67
10:40 a.m.–12 p.m., Sunday, 8 April 2018, Room N260 (Ken Tankel, the Telos Alliance)
Audio over IP has been a revolutionary innovation, changing almost everything about how the job of professional audio gets done. The hallmark of a true revolution is that it keeps going; the change keeps evolving and growing. This paper will overview the current state of Audio over IP technology, and its impact on the industry as of 2018. Coverage will include the use of AES67 as part of the latest SMPTE standards, the growth of interoperation of both industry standard and proprietary AoIP systems, the penetration into automotive, entertainment, government, public address wired sound systems, and more.
The Post-Production Vending Machine: How the Cloud Dilutes the Competitive Advantage
2:30–2:50 p.m., Wednesday, 11 April 2018, Room N256 (Markus Hintz, the Telos Alliance)
References to "The Cloud" in our industry are common, but wide-ranging and often specific in their application. One such example is taking advantage of off-premise computing power, where tasks such as file-based audio processing, loudness normalization, and transcoding—which often require significant dedicated computer resources and investment in a specific platform—can be accomplished on a scalable basis with someone else's hardware and utility software. This concept effectively levels the playing field and allows small companies to more easily compete with larger vendors by removing the high initial and ongoing costs associated with purchasing and maintaining dedicated servers and IT experts on site.

Further Reading
For more about NAB 2018, check out the following content:
NAB Dealer Viewpoint: BGS
Infinity IP Intercom Launches in Radio Market
Telos Alliance has led the audio industry's innovation in Broadcast Audio, Digital Mixing & Mastering, Audio Processors & Compression, Broadcast Mixing Consoles, Audio Interfaces, AoIP & VoIP for over three decades. The Telos Alliance family of products include Telos® Systems, Omnia® Audio, Axia® Audio, Linear Acoustic®, 25-Seven® Systems, Minnetonka™ Audio and Jünger Audio. Covering all ranges of Audio Applications for Radio & Television from Telos Infinity IP Intercom Systems, Jünger Audio AIXpressor Audio Processor, Omnia 11 Radio Processors, Axia Networked Quasar Broadcast Mixing Consoles and Linear Acoustic AMS Audio Quality Loudness Monitoring and 25-Seven TVC-15 Watermark Analyzer & Monitor. Telos Alliance offers audio solutions for any and every Radio, Television, Live Events, Podcast & Live Streaming Studio With Telos Alliance "Broadcast Without Limits."
Topics: Telos Allilance, NAB 2018
Subscribe

If you love broadcast audio, you'll love Telos Alliance's newsletter. Get it delivered to your inbox by subscribing below!