Air Staff Shines with VOCO 8
By Tom Vernon on May 4, 2016 11:42:22 AM

With six signals covering parts of Michigan, Illinois and Indiana, the Shine.FM network broadcasts with a Contemporary Christian format, and the slogan 'stronger families, stronger communities'. Shine.FM's Kankakee, Illinois location is just south of the Chicago metropolitan area. The station is not-for-profit, listener supported, and owned by Olivet Nazarene University from Bourbonnais, Illinois.
It is here we find Gary Dearth, Network Director of Broadcast Systems, who is an early adopter of Omnia's new VOCO 8, 8-channel mic processor. He's excited by both the technical and creative potential of this new Omnia device. "The idea of having processed mic channels as Livewire+ sources opens up possibilities for mic processing and routing that couldn't be imagined with analog devices."
"I love the presets," adds Dearth. "I'm not a processing guru, but with the VOCO's presets, I don't have to be." He adds that he just needed to made some minor tweaks to a preset in order to get the sound he was looking for.
Managing multiple microphones, especially during a fast-paced morning show, can be a daunting task for the host. But it doesn't have to be. With VOCO 8, each announcer can have a dedicated preset, and groups of presets can be combined into unique sessions for easy day-parting either manually or through your automation system. And during those times when everyone is speaking at once, VOCO 8's Dominate-It feature reduces other talent mics when the host is speaking to ensure intelligibility.
While the VOCO 8 has been a great enhancement to ShineFM's Contemporary Christian format, but Dearth has found some other creative uses for it as well. "We had a guest for an interview segment, who was connected via an IP codec. I ran the output of the codec into a line-level input on the VOCO, so the guest audio got the same preset treatment as our studio hosts. As far as our listeners could tell, everything originated here in our studios."
The creative uses of VOCO 8 are only limited by your imagination. In personality radio, it can give all your announcers that "big" sound. For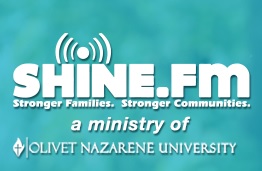 talk radio, use VOCO 8 for a "natural" sound. Or, use it in the production room for special effects or more unusual applications.
With VOCO 8, you can rethink how microphones are used in your facility. Connect mics directly to VOCO 8 in the studio, or connect mics to a mic-level xNode and route them to a remote VOCO 8 via Livewire+. Either way, processed mic audio is available everywhere that Livewire+ goes.
The world of audio processors is changing. The norm used to be one processor for the entire station. But this approach often involves a compromise between voice and music. Omnia VOCO 8 is engineered to individually process and tailor each mic for maximum impact based upon the characteristics and unique properties of each speaker's voice.
The VOCO 8 isn't Shine.FM's first purchase from The Telos Alliance, and it won't be their last. The Indianapolis facility has a studio equipped with an Element console and Power Station integrated console engine. And Dearth has big plans for the future. "We plan to upgrade the studios here at Kankakee, and install a Fusion console and power station, a DESQ compact desktop console, and another VOCO 8. We're in the midst of fund raising for the project, and hope to have the work completed early next year, in time for our 50th anniversary."
Topics: Omnia Audio
Subscribe

If you love broadcast audio, you'll love Telos Alliance's newsletter. Get it delivered to your inbox by subscribing below!