All About Adaptive Audio Streaming
Streaming for broadcast is a hot topic right now. Consumer convenience prompted online video services such as YouTube and Netflix to offer Adaptive Multirate Video Streaming, and audio-only streaming providers—especially radio stations—are just recently able to offer the same convenience to their online listeners. Adaptive streaming is actually simple and inexpensive to implement, but it is a bit different from traditional online streaming. Here, we do a Q&A with Telos Alliance Director of Streaming Ioan Rus to help define the tech behind Adaptive Streaming and illustrate how both broadcasters and listeners come out ahead with Adaptive.
What is Adaptive Audio Streaming?
One of the challenges posed by streaming is how to provide listeners with the best possible audio experience. Encoding the audio at a higher bitrate improves the audio quality, but if the listener does not have enough bandwidth available, they will experience audio dropouts and annoying periodic rebuffering. Selecting a bitrate that is too low will frustrate listeners, especially ones that have plenty of bandwidth available. Adaptive Audio Streaming works to deliver the highest bitrate for the currently available bandwidth, switching bitrates as networks conditions change. Two examples of Adaptive Streaming implementations are Apple HTTP Live Streaming, and Microsoft Smooth Streaming.
Why is it important now?
People are no longer listening to streams just on their computer, they want to listen on the go. Smartphone listening and internet-connected cars are the biggest factors why adaptive audio streaming is more important than ever. The bandwidth variability in mobile platforms is a big challenge for traditional streaming. One moment, connected to the WiFi at home, a listener may have plenty of bandwidth, but the next, as they leave the house and switch to 4G, the available bandwidth may quickly drop. Adaptive audio streaming players detect this, and work in the background to provide the best possible listening experience.
How does Adaptive Audio Streaming work?
Adaptive audio streaming encoders prepare audio segments at different bitrates. This is done in a clever way, so that segments encoded at different bitrates can be seamlessly joined together without any audio glitches. The segments are delivered to a server along with a manifest file, which describes the bitrates available, and other stream information. Adaptive audio streaming players use the manifest file to determine what the server can offer, then they constantly monitor the available bandwidth and ask the server for the audio segments encoded at the appropriate bitrate.
What benefits does the listener experience?
With Adaptive Streaming, listeners don't have to worry about bitrates, bandwidth, or all the work that goes on in the background. They just get the highest possible audio quality for their available bandwidth, with no rebuffering or audio drop-outs.
What does a radio station or other internet audio publisher need in order to make Adaptive Audio Streaming available?
The first item is a streaming encoder capable of encoding adaptive streams. For example, Telos Alliance Z/IPStream X/2, 9X/2, and R/2 products use the latest Fraunhofer codecs (including AAC-LC, HE-AAC, HE-AAC v2, and xHE-AAC), can encode at a variety of bitrates simultaneously, and can package the stream as Apple HLS, Microsoft Smooth, Streaming, or both, at the same time.
On the distribution side, Apple HLS may be served by a regular HTTP server. Or you may want to work with a Content Delivery Network (CDN) that can handle the stream distribution for you.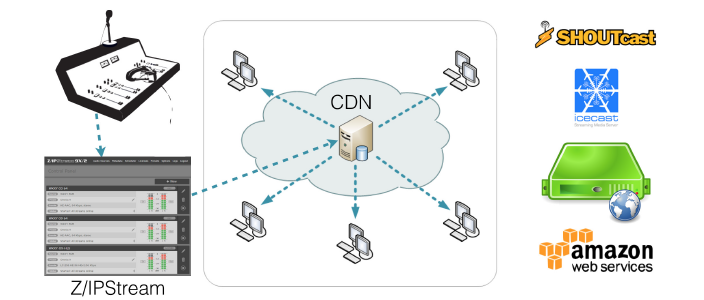 We use a CDN to distribute our regular streams. Can my CDN also distribute Adaptive Audio Streams?
That depends on the CDN. Many CDNs are able to deliver adaptive audio streams today. Give your CDN a call.
Do I need a separate computer or streaming encoder to create Adaptive Audio Streams?
Our Z/IPStream products can simultaneously process and encode your audio in many formats, both as standard and adaptive streams. You can do all of this either using a software encoder (X/2 or 9X/2) or dedicated streaming encoder appliance (R/2).
Doesn't it use a lot of bandwidth to create several versions of my audio stream?
An adaptive streaming encoder creates multiple versions of the audio, encoded at different bitrates, so there needs to be enough bandwidth available available to carry the aggregate bandwidth of these several signals to the media server. For example, if you encode a stream at three different bitrates, let's say 64kbps, 96kbps, and 160kbps, the total bandwidth from encoder to server will be 320kbps.
Since the listener always selects one of the streams from the server, the bandwidth between the server and listener will be just one of the streams, the 64, 96, or the 160kbps stream.
Does it cost more to distribute Adaptive Audio Streams?
It may actually cost less. For example, Apple HLS may be streamed from a standard HTTP server, without requiring a special media server.
Why do you see Adaptive Audio Streaming as a big deal in the future?
As streaming is moving away from the desktop PC, to smartphones and connected cars, Adaptive Streaming will play a bigger role in providing the best possible listening experience for the end user.
Want to learn more about Adaptive Streaming and Telos Alliance Stream Encoders? Visit the following links:
Hardware Versus Software Streaming: Which Is Right for Your Facility?
The Stream Locomotive Is Leaving the Station. Don't Get Left behind.
Telos Alliance has led the audio industry's innovation in Broadcast Audio, Digital Mixing & Mastering, Audio Processors & Compression, Broadcast Mixing Consoles, Audio Interfaces, AoIP & VoIP for over three decades. The Telos Alliance family of products include Telos® Systems, Omnia® Audio, Axia® Audio, Linear Acoustic®, 25-Seven® Systems, Minnetonka™ Audio and Jünger Audio. Covering all ranges of Audio Applications for Radio & Television from Telos Infinity IP Intercom Systems, Jünger Audio AIXpressor Audio Processor, Omnia 11 Radio Processors, Axia Networked Quasar Broadcast Mixing Consoles and Linear Acoustic AMS Audio Quality Loudness Monitoring and 25-Seven TVC-15 Watermark Analyzer & Monitor. Telos Alliance offers audio solutions for any and every Radio, Television, Live Events, Podcast & Live Streaming Studio With Telos Alliance "Broadcast Without Limits."
Topics: Streaming Audio
Subscribe

If you love broadcast audio, you'll love Telos Alliance's newsletter. Get it delivered to your inbox by subscribing below!