A Radio Service That Might Have Been
With the diminishment or the actual shutting down of AM radio in many parts of the world, there is one advantage of AM which should not be forgotten: The potential coverage of large areas of geography.
Some years ago, when the FCC proposed expanding the AM band to 1700 kHz, I had an idea.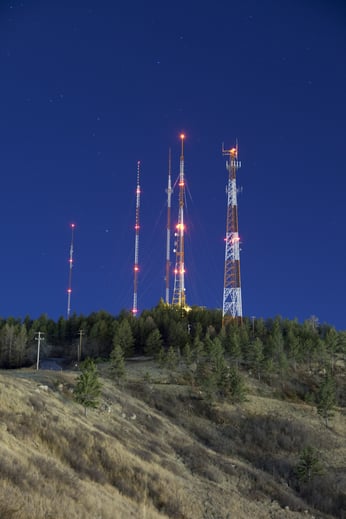 Instead of assigning dozens of stations between 1610 and 1700, which would almost all be authorized to only run 1kW at night and have post-sunset coverage severely hampered by the disadvantages of the high frequency, low power, and AM noise level, how about this: Take five frequencies—1620, 1640, 1660, 1680, and 1700—and geographically distribute them; one in the Northwest, Southwest, Northeast, Southeast, and Central United States.
Have each station run one megawatt nondirectional, day and night, and the format must be news and information (not news talk) with each station understanding that they serve a multi-state region of the country.
We'll get into ownership in a minute, but why this plan?
Here's why. There are major areas of the USA—especially rural, desert and mountainous areas—where the only radio service receivable at night is distant skywave. Yes, there are FMs, but often the FMs are blocked by terrain. And if you can pick up a few, chances are they are computers in a closet.
But don't we have enough AM skywave coverage today with stations like WCBS, WBBM, KNX, WLW, WWL, WBZ, KCBS, KOA, etc?
Two challenges: First, the on-channel and co-channel interference on these AM stations from distant receiving points is getting more and more pronounced every day. The FCC already cut back the clear channel 1-A protected nighttime coverage some years ago to around 750 miles or so, allowing new stations to operate at night on the frequencies of KFI, WBZ, WLW, and other stations that used to be receivable in most or nearly all the country at night. Then, some years later, the FCC jammed in more nighttime stations along the fringes of these dominant stations, adding more noise and cutting into more of their nighttime coverage area. As you may know, there are areas of many states where receiving a clear, nighttime AM signal is almost a hopeless task, skywave or not.
And I won't even get into the elephant in the room, which is the ownership changes of many of these blue-chip stations and what kind of service they would be providing.
So back to the plan I had.
1620, 1640, 1660, 1680, and 1700, all one megawatt nondirectional. There would most likely not be a place in the USA that you couldn't pick up at least ONE of these stations, probably even in the daytime.
I hesitate to suggest that this be a government operation. If it was just the weather, aircraft information, and regional emergency service, I wouldn't have a problem. But since I envision this as a regional WCBS-AM (for example) complete with a rolling news service for the region, it must be an independent venture, even a commercial one.
Remember that I proposed this some years ago before the internet really took off, so some might say that it is obsolete in the face of getting online streams virtually anywhere on your smartphone. But this isn't true. Anyone who has done any kind of serious hiking or deep woods fishing knows that a cell signal in those places is unreliable at best and nonexistent at worst.
Anyway, I am not sure how practical my proposal would have been to have five, high AM power stations designed as critical links to the outside world from challenging geographic areas of the country, but you can judge for yourself by scanning your car radio at night from 1610 to 1700 and listening to the FCC's solution for expanding radio service: It's mostly a mishmash of unintelligible signals in most listening areas.
Further Reading
AM Radio DX page
U.S. Medium Wave Pattern References
Telos Alliance has led the audio industry's innovation in Broadcast Audio, Digital Mixing & Mastering, Audio Processors & Compression, Broadcast Mixing Consoles, Audio Interfaces, AoIP & VoIP for over three decades. The Telos Alliance family of products include Telos® Systems, Omnia® Audio, Axia® Audio, Linear Acoustic®, 25-Seven® Systems, Minnetonka™ Audio and Jünger Audio. Covering all ranges of Audio Applications for Radio & Television from Telos Infinity IP Intercom Systems, Jünger Audio AIXpressor Audio Processor, Omnia 11 Radio Processors, Axia Networked Quasar Broadcast Mixing Consoles and Linear Acoustic AMS Audio Quality Loudness Monitoring and 25-Seven TVC-15 Watermark Analyzer & Monitor. Telos Alliance offers audio solutions for any and every Radio, Television, Live Events, Podcast & Live Streaming Studio With Telos Alliance "Broadcast Without Limits."
Subscribe

If you love broadcast audio, you'll love Telos Alliance's newsletter. Get it delivered to your inbox by subscribing below!