Amazing Sound Quality for BestRadio Brasil with Z/IPStream
By Dave Sarkies on Aug 17, 2016 2:28:10 PM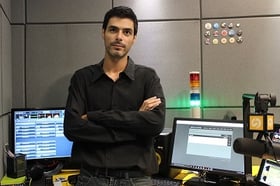 For one Brazilian internet broadcaster, finding the right sound proved a challenge. BestRadio Brasil in São Caetano do Sul, outside São Paulo, was born of an idea to create an internet radio station with the best possible quality—quality programs, music, and an amazing audio quality.
"From the beginning, the audio processing has always been a concern of our technical team," says BestRadio CEO and Program Director David Jill. "It's no use taking audio to the internet with a quality equal to that of an AM radio station, with shrieks and low frequency resolution."
So, what processor to use? David says processing hardware was totally out of the budget, so they looked into potential software solutions.
"We found a software solution that served very well at first, but with the advancement of technology and operating systems, this software was discontinued and we had to migrate to another."
"It was an excellent processor, with several options that we needed at the time," David says of BestRadio Brasil's second choice, "But as we are always seeking the best for our station, we migrated to what is best in audio processing. And the name is Omnia and the Z/IPStream line of streaming audio processors!"
"We migrated to what is best in audio processing. And the name is Omnia."

—David Jill, BestRadio Brasil
David says the the staff at BestRadio Brasil couldn't be happier with the sound. "With the Z/IPStream 9/XE we reached a level far

above what we expected. In addition to being a great audio processor, it also encodes the streams. All in one software! That's incredible!"
Telos Alliance Director of Sales for Latin America Juan Punyed was pleased with BestRadio's decision. "It's humbling when a broadcaster says they want the best available streaming codec on the market and they choose us."
David says with the 9/XE processor the staff can customize presets, providing BestRadio Brasil with a unique, powerful sound.
"Certainly, the Z/IPStream 9/XE makes all the difference in our broadcast."
Topics: Streaming Audio
Subscribe

If you love broadcast audio, you'll love Direct Current! Get it delivered to your inbox weekly!