David Gleason Preserves Broadcast History, Tells of His Own
By Tom Vernon on Feb 18, 2015 2:15:00 PM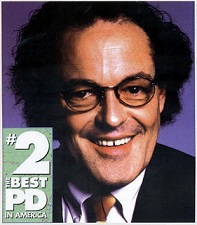 Every day, the cultural history of America in the 20th century is slowly slipping away. Along with it goes the history of radio broadcasting. Every time a veteran broadcaster passes away, a station discards old documents or equipment, a tower is demolished, or fire ravages a facility, a few more bits disappear forever. The process is so slow and subtle that nobody seems to know or care. Well, almost nobody. Veteran broadcaster David Gleason has made it his life's mission to preserve as much history of the radio industry as possible. In the process, he has created the web site americanradiohistory.com.
There, you can view entire periodicals page by page. The titles range from well-known magazines such as Broadcasting, Billboard and BM/E to more obscure monthlies like Elementary Electronics, Televiser and Radio Engineering. Complete equipment catalogs from companies like Gates, RCA and Collins, and even a few equipment manuals, can also be found on these pages.
There are also yearbooks and directories, including every issue of the Broadcasting Yearbook since 1935. Other annuals include the TV Factbook, the BBC Yearbook and the R&R Program Supplier Guide.
Gleason emphasizes that users should consider the site's contents the same way they would a library. "Just like a library, you can read and take notes but you can't 'have' the publications."
It's probably the most complete collection of broadcast materials under one roof. But Gleason didn't set out to create the site, it sort of happened by accident. "It gradually dawned on me that I was being sought out by researchers who couldn't find these materials anywhere else."

There was also a sense of giving something back. "Simply put, I celebrated 50 years in radio in 2009, and this endeavor is a small way to preserve the memories, the heritage and the events of that industry, particularly at a time when the 'towers and transmitters' part of radio is rapidly changing."
Collection a Painstaking Process
Once the website was created, Gleason's personal collection of materials was gradually scanned, converted using Optical Character Recognition, indexed and uploaded as copy-protected PDF files. As he was completing his collection, which went back about 15 years, he began to look for more and older files to post. This was about the time that libraries were digitizing their periodicals and getting rid of the hard copies as a space-saving measure. Gleason made some inquiries, and eventually hit the jackpot. "An Air Force base in Alabama was eliminating its library, and I got all their back issues of Broadcasting. I got more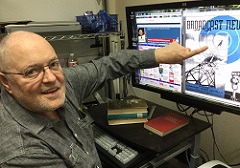 collections from other libraries, and gradually added these to the web site. Some of the materials online now date back to the 1920s," Eventually, the cycle reached critical mass. "The more material I posted, the more I got offered," adds Gleason.
Despite the vast size of the American Radio History website, there are still publications that Gleason lusts after. "The earliest issues of Broadcast Engineering, copies of Radio Daily and TV-Radio Age from the '40s and '50s. Also, Broadcast Advertising, which dates from the 1930s."
Recently, the site has attracted the attention of foreign visitors. "I was asked if I would add Wireless World, a British publication. I did, along with a few others," notes Gleason. "But the site is still limited to English-language publications."
As the collections grew, Gleason had to expand his operations. He built a climate-controlled annex onto his garage. He also upgraded his scanning and computer technology to more efficiently scan materials that cannot be separated into individual pages.
Large or delicate documents are scanned on a large flatbed scanner. The process is slow, but is the best way to capture brittle old publications or oversized documents. No matter the method used, the image is saved for further processing, such that poor and discolored originals can be made legible. Once the documents have been optimized, they are converted to PDFs for Internet viewing.
Publications that are part of large collections, like Broadcasting Magazine, are globally indexed so the entire collection can be searched. To make the site work, Gleason has taught himself web design.
A scan here, a scan there, and it all starts to add up. To date, the site has over 800 GB of files representing over 4.5 million pages. Gleason cannot post everything he would like to on the site however, due to copyright restrictions. Some companies have refused his request to post back issues of magazines, even though some publication went out of business many years ago.
In other instances, there seems to be little interest on the corporate side in preserving radio's history. "Broadcast Engineering was in print from 1959 until last year," recalls Gleason. "When they ceased publishing, their entire library of back issues just w
ent out in the dumpster." He adds that his site has a pretty complete collection from the 1970s forward, but there are many gaps in the 1959-1969 era.
Gleason has devoted over 50 of his 69 years of life to radio, and his interest in the medium began at an early age. From his hometown of Cleveland, Ohio, he would travel vicariously around the world through the hobby of AM DXing. Starting with a Hallicrafters SX-99 and a 200' longwire antenna, Gleason collected QSL cards from several stations in Australia and New Zealand, a half-dozen in Hawaii, over 200 from Latin America, and dozens from Europe. Later, he obtained a Collins 51S-1 receiver and a Sony TC-777 tape deck as his interest in DXing grew.
Cleveland, Ohio to Ciudad de Mexico
When he was in high school, his interest in radio continued, and he began to travel and take the nickel tour of every station he could find. Eventually, he began to hang around at WJMO and co-owned WCUY-FM in Cleveland. He was adopted by the FM operation because he was willing to work for free. At the time, they only broadcast from 5-11 pm Monday through Friday.
All that changed in 1961, when the FCC began to require stations to maintain a minimum operating schedule. "This was a boon to me because I was given all day Sunday to work," recalls Gleason. "I arrived just before 7 AM sign-on, laden with coffee and a sack of 16¢ Royal Castle burgers, which were kept warm on top of the transmitter through the day. My squeaky voice and I played religious shows, brokered shows, and jazz until 11 pm sign-off rolled around. It paid $1.15 an hour."
When management changed in 1962, a formerly glorious MOR host was hired to do afternoons in the belief that WCUY would be noticed. Gleason got a new assignment. "My duties consisted of standing next to the transmitter, which was prone to shutting down when the new host shouted louder than the Gates Level Devil limiter could control. I would, of course, instantly hit the "plate on" button to return the signal to the air."
At the time of Gleason's employment, WCUY was owned by Richard Eaton's United Broadcasting. UBC may be best remembered for losing its broadcast licenses in Miami and Washington, DC for fraudulent billing practices, but it was also a pioneer in ethnic broadcasting, and gave young Gleason some exposure to targeted radio programming, which would be valuable later in his career.
His interest piqued, Gleason used his Easter break in 1962 to travel to Miami and visit WCUY's sister station, WFAB "La Fabulosa." It was the first full-time Spanish language station in Miami, with programming targeted to Cuban refugees following Castro's rise to power.
As Gleason recalls, this was the time when his career direction in radio was sharpened. "I acquired a taste for Cuban music by artists like Orquesta Aragón, Pupi & Su Charanga, La Sonora Matancera and, of course, Celia Cruz. I collected mail-order Cuban records and DXed stations from Cuba and Mexico, even becoming a frequent caller to the late night show on XEB in Mexico City, where I would ask for Sonora Santanera songs to the amusement of the DJ."
Soon, Gleason's interest in Latin music expanded into an interest in Latin America. He was able to enroll in an exchange program to complete his junior year of high school in Mexico City… or at least, that was the plan.
"Once I got to Mexico, I did not ever go beyond matriculating in the school," Gleason recalls. "The next day, I visited Organización Radio Centro, which operated 5 AM stations from palatial studios in the old downtown section of Mexico City, the world's largest commercial radio market. In 1963, AM radio was still king. Radio Centro had nearly 30% of the audience in a market of 32 AM stations. They had a bilingual Top 40, a Spanish Top 40, a tropical music station, an MOR format, and another facility playing all ranchera music."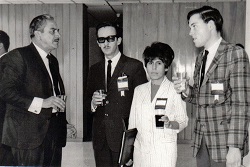 While visiting Radio Centro, Gleason literally bumped into XEJP and XEQR Program Director Ramiro Garza, who was fascinated by a young foreign visitor who was interested in the ORC stations. He mentioned that the stations had an internship program; the rules were to not speak unless spoken to and to do everything asked for. Gleason instantly became an intern, and never set one foot in the school he was supposed to attend.
Instead, he spent part of the year learning to cart newscasts, carry spots to the dubbing room and file records. At the same time, he saw that format radio worked in Mexico. It was the same structure as the Cleveland stations, just in a different language. The jingles were all PAMS overdubs and much of the music on several of the stations was cover versions of American Top 40 hits. Following his time in Mexico, he traveled for several months through Central America and Colombia, visiting every radio station that he could find.
Quito & the Caribbean
In 1964, Gleason's nomadic journeys landed him in Quito, Ecuador, where he stayed until 1970. He finished up his education and started his first radio station, Radio Musical 570. After he had ordered all the equipment, he learned that no one had experience with solid state equipment, and good engineering was in short supply. "While I was waiting for the equipment to be delivered, I took several Cleveland Institute home study courses in electronics. After that, I was able to build the studios myself." Eventually Gleason became chief engineer for what would become a group of twelve stations.
Being chief engineer of a group of Latin American stations was a different experience than doing the same job in the United States. "The import tariffs were so stiff that we built most of our own equipment, rather than purchase commercially-made gear, recalls Gleason. "And that includes transmitters and antennas." In one instance, the homebrew FM antenna was optimized for best beam tilt with a pulley and chain.
HCRM, Radio Musical was a bold experiment in programming. Against over 30 competitors, all with block programming, appeared the first Top 40 station in South America. Advertisers thought it was a ridiculous proposition, as they were used to sponsored block programs, not a 24-hour music format. No one advertised. As Gleason recalls, "Our first client didn't pay his bill, and I learned that it is not a sale unless it pays. A competitor referred to us as the "pocket station" as only kids with pocket transistor radios listened. Anyone with more experience in Ecuadorian radio would not have done this crazy project." Six months after its launch, HCRM was only billing about $50 a month, and was a month from declaring bankruptcy. Suddenly, its luck began to change.
In June, a box arrived from Guayaquil, the major ad center for Ecuador. It was from McCann-Erickson, and had orders and acetate commercial disks for every radio account they had, and for 15 to 20 spots a day each. McCann had done a survey. The little new station was #1.
"Within weeks, we were sold out," recalls Gleason. The station was under such demand that by the end of 1965, clients could only buy Run-of-Schedule spots and a quarter of the schedule ran between midnight and 6 AM. In the Datos surveys, it was frequent to see the evening hours with shares in excess of 75% of listening; the hours after 10PM came close to 100%.
Radio Musical also earned praise in the local print media. One magazine proclaimed, "History, for Ecuador, begins at Radio Musical in Quito, which, in addition to being the first link in the Núcleo Radión (group), opens the era of "disk jockey stations." Non-stop programming, always agile, obviously informal, but always dynamic and happy."
Radio Musical's success prompted Gleason to buy more stations in the Quito market. He created the group Núcleo Radión, which included Ecuador's first independent FM station.
50+ Years in Broadcasting
All good things must come to an end. In 1970, the economic situation in Ecuador was rapidly deteriorating, with runaway inflation, currency controls and shortages of everything. This led to political instability, and Gleason sold the stations and returned to the United States.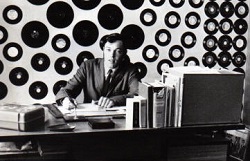 With his expertise in programming and Latin music firmly established, Gleason continued his career in broadcasting, working for stations such as Radio Uno in San Juan, Puerto Rico, WHTT in Miami, Z-101 Santo Domingo, Dominican Republic, and KTNQ AM Los Angeles.
From 1997 to 2003, he was Vice President of the Hispanic Broadcasting Corporation, which eventually merged with Univision. From 2003 to 2011, Gleason was Executive Vice President of Univision Radio, Servicio de Información Programativa - the programming and research arm of Univision Radio working with over 70 stations in 17 markets in the US and Puerto Rico.
Today, along with Amalia Gonzalez and Owen Leach, he is co-creator of The Recuerdo Radio Network, which is a response to imitation of the original HBC-developed format.
Topics: Broadcast History
Subscribe

If you love broadcast audio, you'll love Telos Alliance's newsletter. Get it delivered to your inbox by subscribing below!