AoIP Advantages for Television
By Krissy Rushing on Sep 5, 2017 5:14:05 PM
Despite its wide usage in radio, television has lagged behind in the adoption of Audio over IP. To be sure, re-thinking audio distribution comes with significant challenges and questions that must be considered: How will the new format mesh with legacy technology and infrastructure? Will it be reliable and robust enough for television, including live broadcasts?
Fortunately, the benefits of moving to AoIP for broadcast audio are myriad and proven. It offers the ability to deploy systems quickly, upgrade or replace components easily, integrate and share audio and operational control, and significantly reduce the amount of cabling. Combined with over 15 years of proven real-world use in radio, there are no longer any technical reasons to postpone the planning and implementation of AoIP. It just comes down to deciding when to make the move.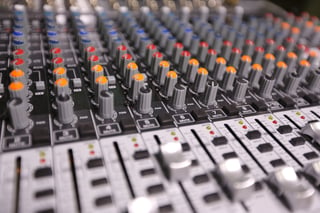 Of all the advantages AoIP offers, one of the most attractive is the simplification of system design. Often a single run of CAT-6 Ethernet cable can replace hundreds or even thousands of feet of traditional mic and audio cables and terminate simply with a standard RJ-45 connector. AoIP reduces power consumption, cooling loads, and rack space requirements in studios, master control rooms, and terminal and operation rooms.
Another advantage is scalability. Wholesale replacement of the entire facility isn't a requirement, and migration to AoIP can easily be done in stages. This helps minimize downtime and disruption to normal operation, and makes it easy to plan for and budget. Since the size of the network is limited only by bandwidth, adding capacity is as easy as adding additional switches.
One final advantage of AoIP is interoperability, which allows broadcasters to confidently pick and choose equipment from various manufactures knowing they will work together as a complete system. The wide-scale implementation of the AES67 standard ensures this.
AoIP is quickly becoming the standard way of sharing and distributing audio within a television facility. When you consider all of its advantages - simplified cabling, flexible signal routing, scalability, reliability, cost-effectiveness, and interoperability between gear from hundreds of manufacturers – it's easy to see why.
Topics: aoip, AoIP for Television
Subscribe

If you love broadcast audio, you'll love Direct Current! Get it delivered to your inbox weekly!