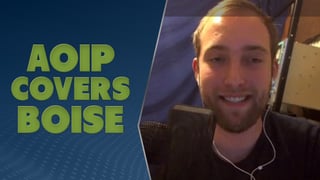 Jordan Bitz walked into an existing AoIP radio station and had to learn it - fast! Now he's extended his AoIP network to a transmitter site 30 miles across the valley. Plus, he's using streaming audio for distribution and backup systems.
Also on this episode, David Bialik previews an amazing Broadcast and Streaming track at the AES Convention in New York.
Guest:
Jordan Bitz - Engineer at Barefoot Media Ministries
Show links:
143rd AES Convention - Broadcast and Streaming Track Events
Free AES Expo Pass from David Bialik
Hosts:
Chris Tobin, IP-Solutionist
Kirk Harnack, The Telos Alliance, Delta Radio, & South Seas Broadcasting
Follow TWiRT on Twitter and on Facebook
Watch the Video!
Topics: Broadcast Engineering, Streaming Audio, audio, audio quality
Subscribe

If you love broadcast audio, you'll love Direct Current! Get it delivered to your inbox weekly!