Recent Posts
Resolving audio delay issues with the Omnia.9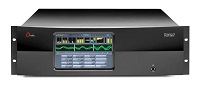 Sanif Sentosa of CityRadio 95.9 in Indonesia writes:
I've just purchased and installed my Omnia.9 Processor. We use it for Stereo FM, HD Radio and Streaming. I've got a problem in the latency. There is approximately 1-2 seconds delay between the output from my mixer and the output of the audio processor. Could you please help me with that?
Read More
Topics: Omnia Audio, Radio Audio Processing, Audio Quality Monitoring & Analysis
Subscribe

If you love broadcast audio, you'll love Telos Alliance's newsletter. Get it delivered to your inbox by subscribing below!