Recent Posts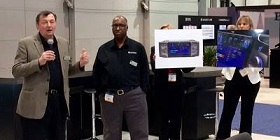 NAB 2016 is now in the books—another in the long list of exciting adventures we've experienced here at the Telos Alliance! Traffic in both of the Telos Alliance locations—Radio in the North Hall, TV in the South—was nonstop, with folks sometimes three-deep trying to get a look at our various offerings. In keeping with our mission of "disruptive innovation," the Telos Alliance radio division introduced µMPX. (
Download the µMPX one-sheeter here.
) This is a new technique for transporting the FM-Stereo composite (MPX) signal over an efficient data pipe. In a normal linear application, a connection that is more than 3Mbps would be required for an MPX path. µMPX is able to accomplish this using a 320kbps path! We do this with a newly designed, dedicated codec for the MPX signal. There is zero loss of peak control, and the audio quality is basically transparent. The µMPX display was live, and it incorporated a digital STL link provided by our friends at Moseley, which carried the signal over to the Nautel booth, where it was connected into one of their transmitters. At this time, we are finalizing some aspects of the tech, so our demo at NAB was essentially a preview. Keep your eyes peeled for more to come on this exciting development!
Read More
Topics: NAB Las Vegas
Subscribe

If you love broadcast audio, you'll love Telos Alliance's newsletter. Get it delivered to your inbox by subscribing below!