Axia in ATX: How Univision Austin Went for AoIP - Twice
By Tom Vernon on Sep 4, 2014 1:52:00 AM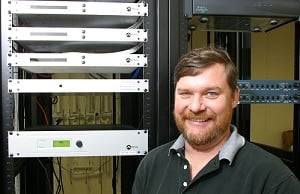 Univision Austin is home to two Hispanic radio stations and one TV station. In charge of the technical end of the radio side of things is Mark Stennett, Chief Engineer for the Austin stations, and also Univision's Corporate Engineer for Radio. In his 30-year broadcasting career, Mark's seen and done plenty. And he can also lay claim to installing some of the very first Axia networked consoles on the planet.
As Mark explains, he has been an Axia customer since 2004. "I saw Livewire for the first time at NAB, and thought that the technology had great potential. At the same time, we (La Jafa 104.3 and El Sancho 107.7) were updating our radio facilities, so I purchased three Axia SmartSurfaces." SmartSurface, the first Axia console, was a bit of a polarizing design; some said it looked a bit like something off the Starship Enterprise. Mark was one who loved it.
Excited about the new technology, but still wanting to hedge his bet, Mark had shielded Cat-5 cable pulled throughout the facility and terminated in punch blocks, just in case he had to fall back to analog. That was never necessary, and his SmartSurfaces performed just the way he'd envisioned they would.
"For ten years, they needed zero maintenance," explains Mark. "All I ever had to do was blow dust out of the faders." But all good things must come to an end, and when Axia announced that they could no longer get the parts to support SmartSurfaces, he upgraded with a second round of Axia, this time with Element modular consoles, with the idea that they could be used in a p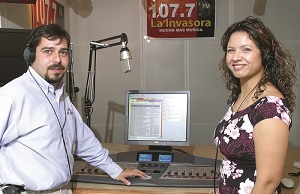 lanned facility move. That decision, too, turned out to be the right one.
"One of our SmartSurfaces suffered a catastrophic failure, and I needed to get an Element on line quickly," Mark recalls. He used a jigsaw to make a new inset for the countertop, which matched the 24-channel Element's footprint. Using the notes he saved from the SmartSurface installation, Mark programmed its sources into the new Element. After applying power, assigning an IP address, and hooking up a few miscellaneous cables, the Element installation was complete. "From start to finish, the project took about three hours," he recalls. "An important takeaway from this experience is, if a company announces they can no longer support a key piece of equipment, you need to take action right away."
Element consoles continue the company's tradition of battleship-quality construction, with a goal toward long life and ultimate reliability. Element is fabricated from thick, machined aluminum extrusions for rigidity and RF immunity, resulting in a board that will stand up to nearly anything. All faders are conductive-plastic and actuate from the side, so grunge can't get in. And the rotary controls are high-end optical encoders, rated for more than five million rotations. No wipers to clean or wear out; Element's avionics-grade switches have been tested to 2 million operations.
But what if something eventually does wear out? No worries. Faders come out after removing just two hex screws. Switches and rotary volume controls are likewise easy to access. And all lamps are LEDs, so you'll likely never need to replace them.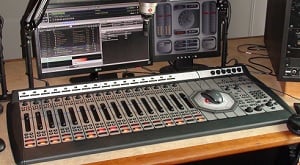 Finishes on a console surface take a real beating, and Axia designers have thought about that too. Element uses high-impact Lexan overlays with color and printing on the back, where it can't rub off. And instead of just sticking the Lexan to the top of the module, Element's overlays are inlaid on the milled aluminum module faces to keep the edges from cracking and peeling – not cheap to make, but worth the effort. For extra protection, there are custom bezels around faders, switches and buttons to guard those edges, too. Element modules look great for years, say clients; there are over 4,500 in the field.
Univision Austin's Axia odyssey isn't over yet, according to Mark. Beginning in October, the two Univision radio stations will begin their relocation project, co-locating with the TV facilities for KAKW 62 in north Austin. The move should be complete by March. Of course, the three Elements will be making the move, along with the Telos phone hybrids.
Having ten years of Livewire under his belt, however, Mark says that in his new facility there's at least one thing he'll do differently: "This time, I'll just pull CAT-5 to all destinations. There's really no need for all the extra infrastructure."
We're guessing no one will shed a tear for the punch blocks.
Topics: Axia Audio
Subscribe

If you love broadcast audio, you'll love Direct Current! Get it delivered to your inbox weekly!