Axia IP-Tablet Wins Best of Show Award at Salon de la Radio 2018! | Telos Alliance
By The Telos Alliance Team on Feb 15, 2018 8:16:20 AM
Axia IP-Tablet Wins Best of Show Award at Salon de la Radio 2018!
The 2018 European Radio Show / Le Salon de la Radio took place at the Charlie Parker Centre of the Grande Halle de la Villette in Paris, January 25–27. There, Axia and Livewire partner IP-Studio won a Best of Show Award for Salon de la Radio for the Axia IP-Tablet Virtual Radio Software and all its innovative implementations at the booth demo.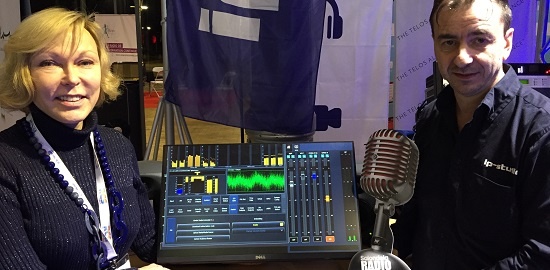 Telos Alliance Director of Radio Processing Sales Mary Ann Siedler and Jérôme Gahery of IP-Studio accept Le Salon de La Radio Best of Show Award.
"This award from Le Salon de la Radio rewards our collaboration with the Telos Alliance for the innovation we have promoted at this event," says Jérôme Gahery of IP-Studio.
The IP-Tablet virtual radio demo featured the full Axia and IP-Tablet Virtual Radio experience. Axia also demonstrated the IP-Tablet for xNode Mixer, including many examples of production cases without a physical surface, such as voice track, news, external events, and more.
Axia IP-Tablet software virtualizes the monitoring and control of broadcast gear on a Windows tablet or PC. Anything from a low-cost Asus model to a high-end Microsoft Surface can run any of the IP-Tablet Virtual Radio software modules. Sold individually, broadcasters can buy those software modules that are most relevant and beneficial to their studio setup, such as the Telos Systems VX or VX Prime phone systems, the Telos Z/IP ONE IP-audio codec, the Omnia.9 audio processor and Omnia VOCO 8 mic processor, Axia Fusion Console via modules that control the Axia PowerStation and StudioEngine, xNode Mixer, Axia Pathfinder buttons, and other HTML5-enabled gear. The Metadata Tools app allows users to pull metadata information from an automation system to display on the tablet or PC screen.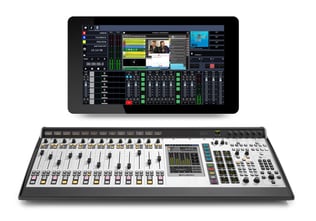 "The IP Tablet created a lot of excitement at Le Salon de la Radio because it is so capable, flexible and works across a large range of products inside and outside the Livewire ecosystem. It's ultimately customizable yet easy to use," says Marty Sacks, VP of Sales, Support, and Marketing at Telos Alliance.
Aside from virtualizing control, the IP-Tablet enables the management of user rights for device access, linking a user's profile to their needs. You can mount the Axia IP-Tablet right into your Axia Fusion console with a beautifully machined, completely flush IP-Tablet Mount or use it on a freestanding tablet or PC.
Below, watch Jérôme talk about how important the European Radio Show is to the radio business in this valuable market and get a glimpse of IP-Tablet in the booth.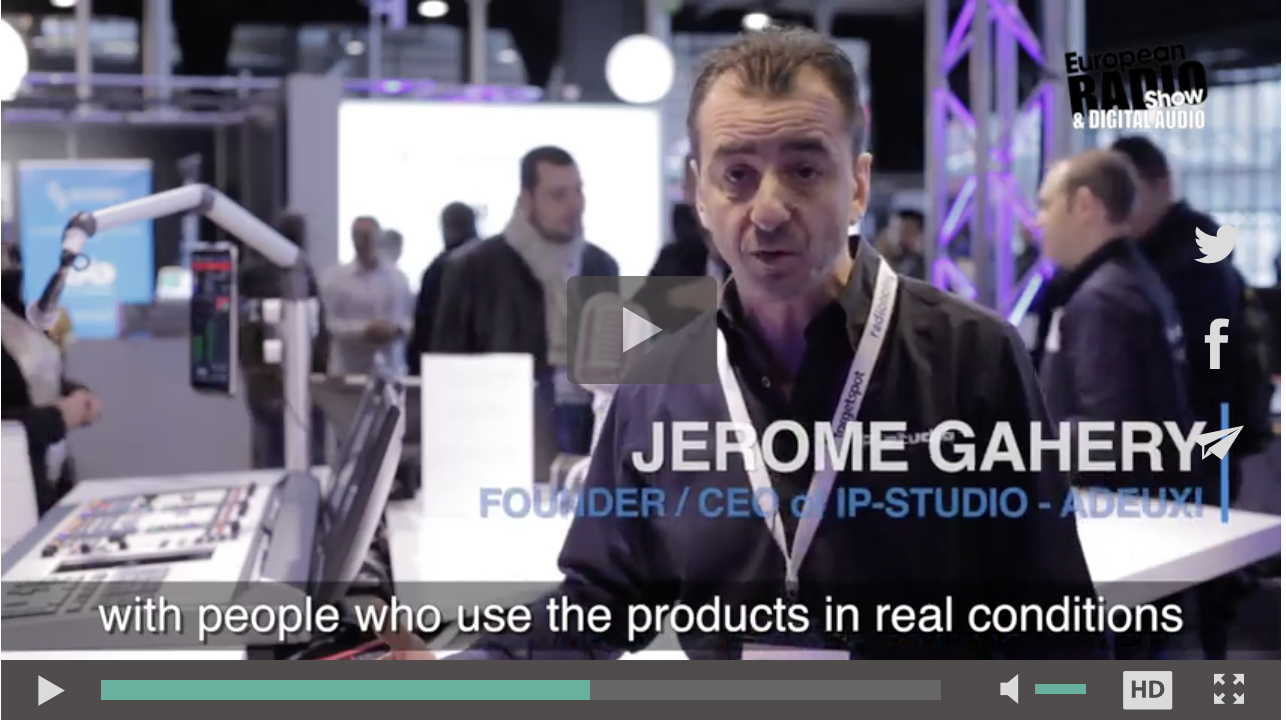 Additional Content
Axia IP-Tablet Virtual Radio Software
Telos Alliance has led the audio industry's innovation in Broadcast Audio, Digital Mixing & Mastering, Audio Processors & Compression, Broadcast Mixing Consoles, Audio Interfaces, AoIP & VoIP for over three decades. The Telos Alliance family of products include Telos® Systems, Omnia® Audio, Axia® Audio, Linear Acoustic®, 25-Seven® Systems, Minnetonka™ Audio and Jünger Audio. Covering all ranges of Audio Applications for Radio & Television from Telos Infinity IP Intercom Systems, Jünger Audio AIXpressor Audio Processor, Omnia 11 Radio Processors, Axia Networked Quasar Broadcast Mixing Consoles and Linear Acoustic AMS Audio Quality Loudness Monitoring and 25-Seven TVC-15 Watermark Analyzer & Monitor. Telos Alliance offers audio solutions for any and every Radio, Television, Live Events, Podcast & Live Streaming Studio With Telos Alliance "Broadcast Without Limits."
Subscribe

If you love broadcast audio, you'll love Telos Alliance's newsletter. Get it delivered to your inbox by subscribing below!