Axia iQs Virtual Broadcast Console won RedTech's Best in Show Award! | Telos Alliance
By The Telos Alliance Team on Sep 13, 2022 9:47:54 AM
Axia iQs Virtual Broadcast Console won RedTech's Best in Show Award!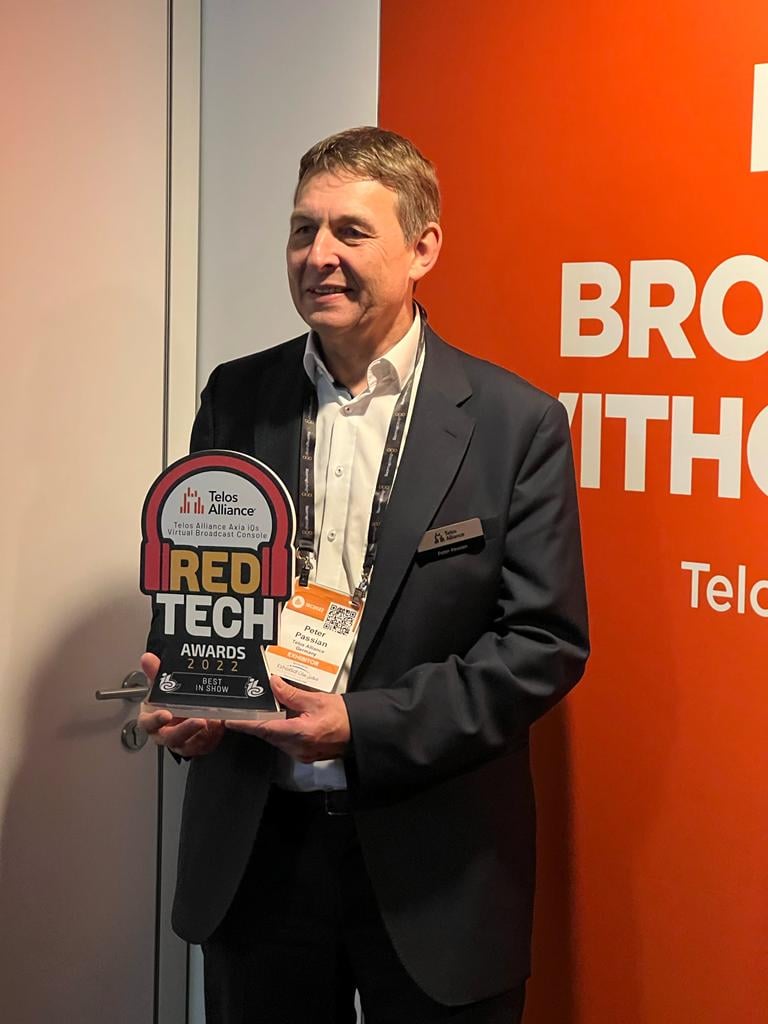 The annual awards program acknowledges outstanding technological innovation within the radio and digital audio space. To be considered, the product or service had to have been introduced to the industry in the last year. Industry experts evaluated the nominees by looking at market relevance, design, business benefits, operational benefits, innovation, technical excellence and cost-effectiveness.
Telos Alliance Axia iQs AES67 Mixing Console Software Overview

Applications
Console capability without the physical surface
Distributed / remote workforce
Temporary studio anywhere (nontraditional studio space)
Studios lacking physical space
Multiple users who need concurrent collaboration on a single mix
Telos Alliance® was there for you when you made the leap to IP, and now we're here to help you on the journey to virtualization, wherever you are on that path. Our goal is to give you broadcasting options that are familiar while creating new ways of working that deliver on virtualization's promise of added scalability, adaptability, cost efficiency, simple deployment, and reliability. And that's just what we've done with our new Axia iQs AES67 Mixing Console Software.
More than a decade ago, Telos Alliance created the Axia iQ AoIP console, now known for its ability to deliver a powerful and flexible mixing experience. Rather than pay for unwanted extras and faders, iQ allowed broadcasters to work smarter, offering the 'just right' functionality to mix content how they wanted, without sacrificing features.
Then we took the iQ philosophy and upgraded its underlying technology to create the Axia iQx AES67 console, the first AES67 AoIP console to combine the mix engine and console into one chassis. iQx lets you plug right into your AoIP network —with complete AES67 / SMPTE ST-2110-30 compliance— and enjoy the same capable, easy-to-use experience of the iQ.
Now, the Axia iQ family takes a bold step into the virtual AoIP future with iQs, the software version of iQx that does not require a physical surface. iQs is the first soft console controlled by a full HTML-5 interface, allowing you to not only control a mix from anywhere, but on any device—Mac, Windows, tablet, laptop, even your phone! It's available in two ways to suit your needs and comfort level.
Telos Alliance has led the audio industry's innovation in Broadcast Audio, Digital Mixing & Mastering, Audio Processors & Compression, Broadcast Mixing Consoles, Audio Interfaces, AoIP & VoIP for over three decades. The Telos Alliance family of products include Telos® Systems, Omnia® Audio, Axia® Audio, Linear Acoustic®, 25-Seven® Systems, Minnetonka™ Audio and Jünger Audio. Covering all ranges of Audio Applications for Radio & Television from Telos Infinity IP Intercom Systems, Jünger Audio AIXpressor Audio Processor, Omnia 11 Radio Processors, Axia Networked Quasar Broadcast Mixing Consoles and Linear Acoustic AMS Audio Quality Loudness Monitoring and 25-Seven TVC-15 Watermark Analyzer & Monitor. Telos Alliance offers audio solutions for any and every Radio, Television, Live Events, Podcast & Live Streaming Studio With Telos Alliance "Broadcast Without Limits" "Love What You Hear"
WHAT WE DO
We don't just make audio products. We're your partner on your audio journey, delivering solutions that meet the challenges you face head-on. So you can spend less time solving problems and instead focus on creating the most exciting audio experiences imaginable. With Telos Alliance, you—and your audience—are going to Love What You Hear.
Subscribe

If you love broadcast audio, you'll love Telos Alliance's newsletter. Get it delivered to your inbox by subscribing below!