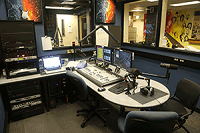 Axia powers Radio DePaul
At age 19, Jake Alderman, a sophomore at Chicago's DePaul University, already knows what he wants to do when he graduates. One word – radio. He became fascinated with the medium while a student at Lyon Township High School (LTHS) in La Grange Il. It probably helped that the school system has one of the top-rated high school stations in the country, winning awards for excellence in 2008, 2009 and 2012.
"I was also fortunate to have three great mentors at LTHS. Chris Thomas, a teacher at LTHS and the station's general manager, the technical director, Dennis Strecker, and Mike Dorris, the station's contract engineer."
While he was a student at LTHS, the station raised $30,000 to replace outdated equipment. The decision was made to go with Axia, and Alderman helped to install three Axia iQ consoles.
After graduation from high school, Alderman continued his interest in radio, enrolling in Chicago's DePaul University as a Media Communications major. Of course, he also got involved with the campus station, Radio DePaul. Among the many accolades the station has received is Best Online College Station, 2012 from the Intercollegiate Broadcasting System (IBS). "Originally, I just wanted to do a show," he recalls, "but I soon got involved in the engineering end, after our Faculty General Manager, Scott Vyverman, encouraged me to." Alderman was quickly put to work installing a new studio over spring break.
Currently, Radio DePaul has an Axia iQ console with a six fader telco expansion frame, Telos iQ six-line telco gateway, Vset handset and a Telos Z/IP One IP codec for remotes.
Radio DePaul's student broadcasters find Axia systems easy to use
iQ is Axia's newest IP console, and it's the easiest way yet to get an IP-Audio studio up and running. Four Show Profile memory positions let you set, save and recall snapshots of console setings for later use. High-resolution Organic LED meters are built in, and OLED displays on every fader show source assignments, pan & balance settings, fader options and more -- no additional monitors or mice to clutter up your studio.
Alderman just finished the final piece of the new studio before the fall term began – installing Presenter, the new digital studio playout system from ENCO. "It's a system that media majors will use in the real world and it's easy to use," notes Alderman. ENCO Systems is also an Axia Partner, so Presenter integrates well with Radio DePaul's iQ console. Now that installation is finished, Presenter's output appears on one of the iQ's faders, so joining and breaking away from automation is simply a matter of fading in or out.
Alderman notes that a college station such as Radio DePaul places unique demands on studio equipment. "On one hand, you have non-majors, who just want to have fun and make some memories. They want it simple. On the other hand, there are media majors who want to do innovative and creative things with the equipment, so they want the bells and whistles."
Simple, yet Innovative
"What's great about the iQ console and other Axia gear," Alderman points out, "is that it works for both groups. You can easily do a show by just knowing the faders on/off switches and input selectors. But if you want to go deeper, you can get into all of the extra functions and do some amazing things."
By the way, the photos here were taken by Jacob as well - to see more, check out the Axia Client Gallery or our Facebook photo album.
Telos Alliance has led the audio industry's innovation in Broadcast Audio, Digital Mixing & Mastering, Audio Processors & Compression, Broadcast Mixing Consoles, Audio Interfaces, AoIP & VoIP for over three decades. The Telos Alliance family of products include Telos® Systems, Omnia® Audio, Axia® Audio, Linear Acoustic®, 25-Seven® Systems, Minnetonka™ Audio and Jünger Audio. Covering all ranges of Audio Applications for Radio & Television from Telos Infinity IP Intercom Systems, Jünger Audio AIXpressor Audio Processor, Omnia 11 Radio Processors, Axia Networked Quasar Broadcast Mixing Consoles and Linear Acoustic AMS Audio Quality Loudness Monitoring and 25-Seven TVC-15 Watermark Analyzer & Monitor. Telos Alliance offers audio solutions for any and every Radio, Television, Live Events, Podcast & Live Streaming Studio With Telos Alliance "Broadcast Without Limits."
Subscribe

If you love broadcast audio, you'll love Telos Alliance's newsletter. Get it delivered to your inbox by subscribing below!