Axia Socks It to 'Em
By Tom Vernon on Jan 31, 2013 3:38:00 PM
Don't try this at home, folks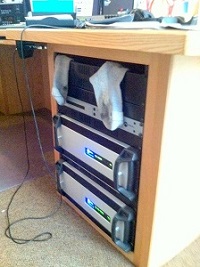 As part of our relentless monitoring of the Interwebs, the Telos Alliance Marketing gnomes came across this post on Pubtech, the Public Radio Technical listserve, from Doug Hoag of KAXE in Grand Rapids, Minnesota:
"I used vented rack panels to block access to the PowerStation to make sure no one laid a paper or something on top of the PowerStation's perforated chassis. Left a slot open at the top for extra air circulation...and never thought it was going to be an issue. Found our News Director using the warmth from our PowerStation to dry his socks." (Click here to see it in all its glory).
Now, while we're proud of the fact that Axia equipment can be used in many different and varied ways, this particular application is not one we'd foreseen when speccing out the primary use of our premiere Integrated Mixing Engine.
What we do recommend PowerStation for is powering any studio where maximum uptime is at the top of your operational list, or where fast, efficient installation is a priority. What makes PowerStation so special is the fact that it's got so much packed inside it: Analog I/O. Mic inputs with selectable Phantom power. AES/EBU. GPIO ports. Livewire ports. Fanless telecom-grade power supply.
And don't forget the network switch! That's right -- Axia is the only IP-Audio console maker that puts the a zero-configuration, built-for-broadcast Ethernet switch, with Gigabit and SFP port for copper or fiber connectivity, right into the console engine. And for really big studios, one cable connects a PowerStation Aux to the Main, just like in the photo above, to double your I/O and add automatic-switching redundant power to your console.
But please, leave your socks on your feet. We don't want you catching cold.
Topics: Axia Audio
Subscribe

If you love broadcast audio, you'll love Direct Current! Get it delivered to your inbox weekly!